Shopping Cart
Your Cart is Empty
There was an error with PayPal
Click here to try again
Thank you for your business!
You should be receiving an order confirmation from Paypal shortly.
Exit Shopping Cart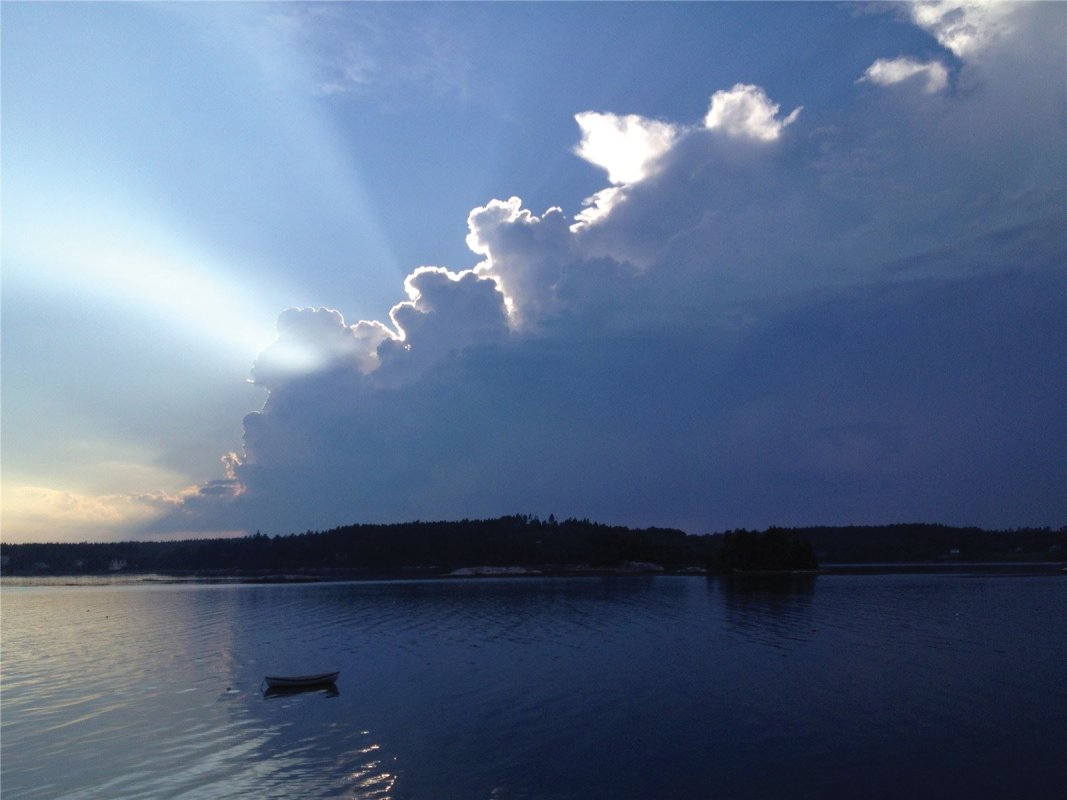 I've written and deleted many words in the last several hours trying to capture how I feel "twelve years later." The twelfth anniversary (somehow I don't feel the word anniversary should be associated with sad events-but there it is) of when Larry left our house for the last time.
The words I've written and rejected don't do justice to the excruciating moment when Larry died, nor do they capture what has transpired in my life in the succeeding years. They seemed trite and redundant.

But this image does for me what my words cannot. It is a photograph I took in Maine last summer. I knew then as I know now that its meaning was epic for me--which was I have been able to let the light back into my life. I've shrugged off the dark clouds which I thought would shroud me forever.
The image also echoes my belief (possibly childlike) that I believe Larry is in the clouds--along with others who went before and after him, and that they swirl happily together in a blessed firmament. 
The shooting rays of sun struck me as a sign of hope and confirmation that life goes on--that in
fact it is possible to "welcome life after loss."

I will light a candle tonight in memory of Larry, I will silently toast the life we shared together and I will pause to be grateful for those who love me and have shared my journey.

I'm tired tonight. But not as tired as my dear friends who lost a grandson last week. I know a little something about grief--BUT this pain experienced by my friends is the worst horror. The order of life tragically turned upside down.

I didn't know if I would have the courage to travel the miles to give a comforting hug.I didn't know if I were brave enough to stand in a room with my friends (the grandparents) the parents, the siblings, the aunts and uncles, the cousins, the young friends, and the old friends and be strong enough to comfort, rather than yearning to be comforted about such a senseless loss.

But as the lyrics of the song echoed in my head "that's what friends are for--the good times the bad times." These friends were close couple friends--another reason why I was initially weak about being able to attend the memorial service.I would be going alone--and that thought made my decision doubly difficult.

Fortunately, my heart and head got it together--you "show up" for your friends who need you. You do travel the miles just to say for a minute--"I love you, and I'm here." Because that is the worst thing about losing a loved one--not much that you relied on makes sense anymore. But the love of friends and family makes the difference. Hope is rekindled.

These friends were there for me. The room at the reception was filled with friends who carried me over the worst time of losing the love of my life. "That's what friends are for."

I painted this hydrangea for my friends--it's on the cover of the sympathy card I am sending them. I hope they will laugh a bit when they see it--because we used to laugh at my need to collect hydrangeas--even if they weren't mine. Confession--Larry and I lived next door to the parish house in Wellfleet. The house was used for offices for the church across the street. In the late Fall I would go out after dark and snip off  the hydrangea blossoms, surreptitiously and quickly put them in a grocery bag to take home--believing that I was doing a good thing--pruning the flowers before they turned brown and ugly. My friends--for whom I drew this sympathy card--would ask me "Con, were those flowers 'taken'  from the church?"
I'm tired tonight--but they are bereft. Their friends cannot make their pain go away--but I and we can let them know that we are here with outstretched hands, open hearts, constant prayers and the hope that they know that treasured memories are the strength that heals.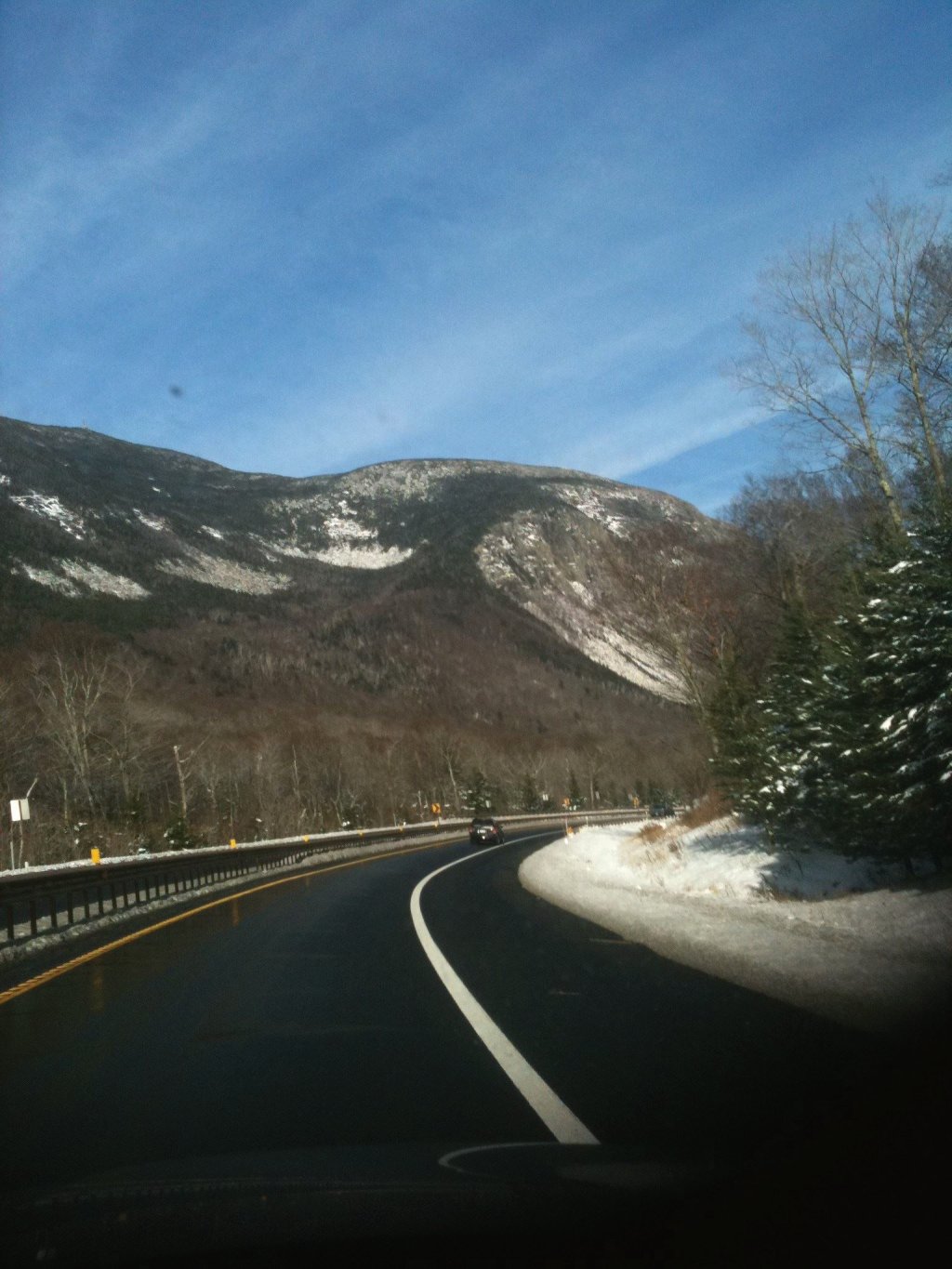 Tomorrow I say goodbye to a friend--a non-human friend--a car. I am sad about saying goodbye. I've never been attached to a material object before, I work hard at managing difficult transitions. But when I heard the service rep at the car dealership say to me that my car was "totaled" after having been caught in one of the flash floods that hit the NE last week, I was bereft.
Let me be clear--this car was eleven years old with 187,000 miles. But that's the clue, it was eleven years old--the number of years it had carried me around since my husband died. It was my first major purchase without the guidance of my husband--although, my son and daughter played a role in helping me choose the car (which only added to its cherished status). It was time to say goodbye; probably five years ago would have been the right time to say goodbye, but I couldn't part with it.
Just about the time I bought the car, my son, Rob, recommended a book to me written by Neil Peart, drummer/lyricist for the band RUSH. The book, Ghost Rider:Travels on the Healing Road was a travel memoir that he wrote about a 55,000 mile journey he took on his motorcycle after the deaths( in the same year) of his 19 year old daughter and his wife. He was lost in grief.
The year the book was published, 2002, was the year my husband died. I read the book and while I did not hop on a motorcycle, I did hop into my new car and traveled to five cities in Canada--alone. I write about the experience in  Above and Beyond Wellfleet, and how healing the journey was for me. I decided to take this trip to escape the first holidays (Thanksgiving and Christmas)without Larry. That meant I was traveling through Canada through wicked snowstorms and on icy roads. My car never flinched at the challenge--that's when I think I developed my first friendship with a  "thing" rather than a person.
Over the past eleven years, my friend has taken me down many highways. It has seen me sing at the top of my lungs and heard me gush to myself about beautiful scenery. It made me feel safe and independent--two crucial aspects of learning to accept my new role as "widow."
Tomorrow, I will go to the dealership and remove my personal belongings and probably pat the hood, and mostly likely I will cry. Somehow it doesn't seem right that it will end up as scrap. It will always be in my museum of memories.
The intervening eleven years when we first hit the road together on my journey have been good years--hard in some ways, but as I say goodbye tomorrow I will also say a quiet thanks to my traveling companion who shared many a strengthening adventure with me.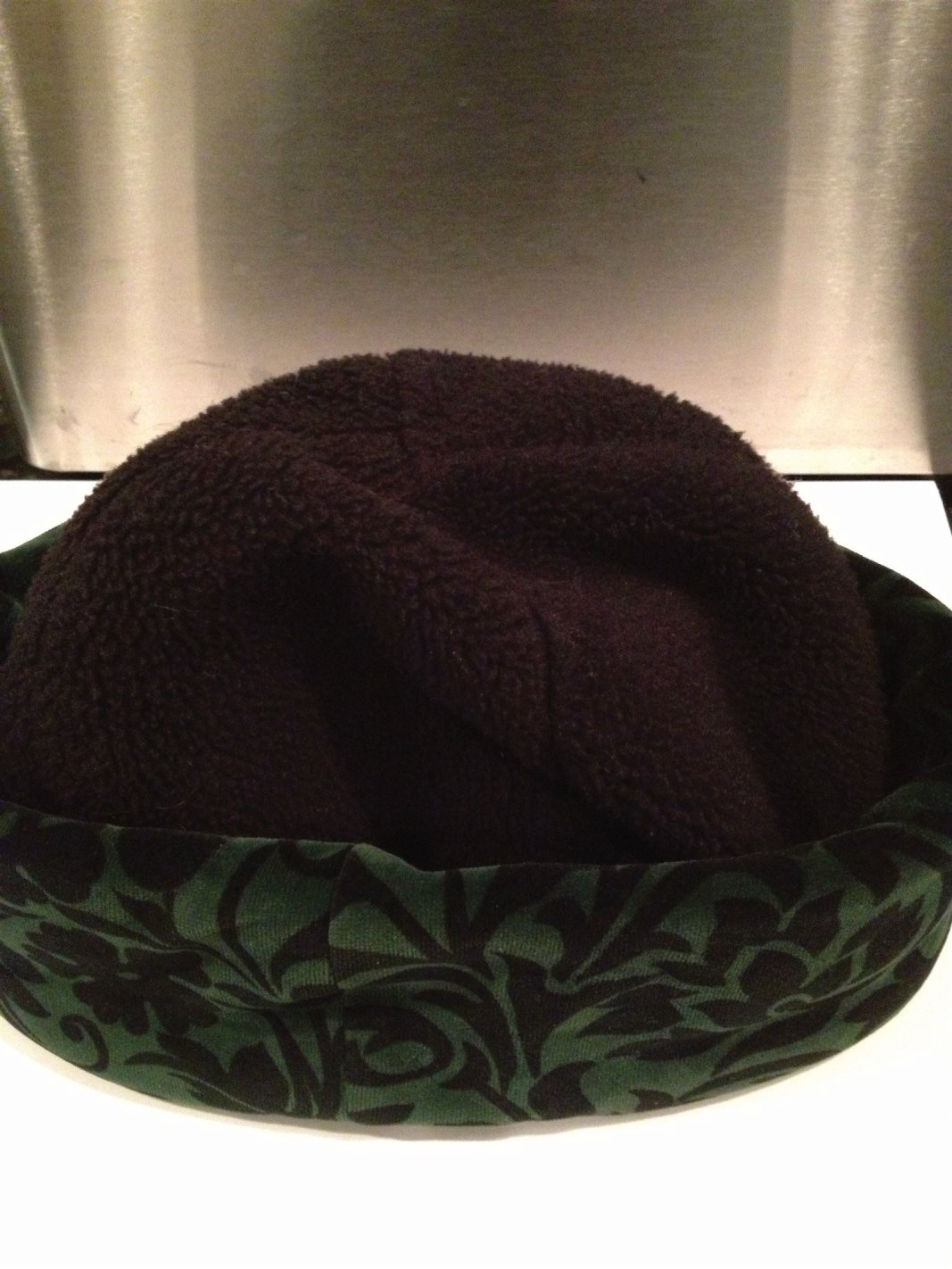 It's cold here in the Northeast.Just the way it should be in early January.This morning, I put on my treasured hat, the one pictured here.I almost lost it eleven years ago.Can a hat be a treasure?This one is.My husband bought it for me when we were visiting friends in Colorado, and we had packed too lightly.He placed great stock in hats being essential to protecting the body from becoming too cold.He once bought me a woolen hat in Camden, Maine on an incredibly hot day in July.He had a real boy scout "be prepared" instinct when it came to hats.This one though was extra special.I took it with me to Toronto where I fled the day of his funeral.I escaped to a favorite city of ours so that I could steep myself in memories and soak as much of him and our life together as I could so that I would never forget what we had.Some thought my desire to be alone away from loving family and friends was disturbing, but I knew instinctively that I needed to concentrate in isolation on what our life had been like and feel the pain of love lost and the exhilaration of love experienced.I knew it would not come my way again, and I had to make peace with it.Now what does a hat have to do with this story?Just this.I wore it constantly for the first few frigid February days when I walked the streets of Toronto, mulling over my life.Each night after coming home to the hotel, I put my hat on the desk in my room.The fourth day after breakfast I reached for my hat which I always put by my lap top.It was not there.I had kept my roiling emotions under control until then.I panicked, I was gripped with the unfathomable loss that I had held at bay.I came face to face with the horror of losing the love of my life and the loss of this hat brought it all home to my heart.Where had it gone?I spent the day searching for it.I revisited every place I'd been the day before.No hat.I begged the kind people at the small hotel where I was staying--they knew the story-to search everywhere for my hat.They did--but they didn't find it.Neither had I found it.Every nook and cranny of my room had been torn apart--multiple times.I had visited all the "lost and founds" of each restaurant and shop I had gone to the last three days.No hat.The next morning after a sleepless night, I ordered room service coffee, when I went to get the money for the tip I went to my desk--on it was the HAT.There was no logical way the hat could have been placed at my desk.My hat had been lost and now found impossibly.How? Why? I have learned since that there is an expression in the grieving glossary called "metaphor". It is the not-to-be explained incidences that leads the grieving individual to believe you are in contact with the loved one lost.My hat is my metaphor.I know there was no logical explanation about how my hat came to be on my desk.It didn't matter--I had my hat and I had the experience of perhaps the hand of my husband reaching to me from beyond.Magical? Yes.Comforting? Yes.More than that, though, it was a signal that I had to accept things beyond my comprehension.I had to have faith.I had to begin to see that life is in many ways beyond our control.My hat still keeps me warm as it did this morning.It is also a constant reminder to try and believe in those things that don't make sense.
When I moved "Beyond Wellfleet", my dear (and talented) friend Patty Adduci gave me this needlepoint. I hung it on the wall of my new home almost before the paint dried.

It followed me to my second home and reminds me every morning to think of flowers 
and the fading cold of winter--caused by sorrow.

The subtitle of Above & Beyond Wellfleet is "Welcoming Life After Loss". In this blog, I hope to expand the welcoming part of moving on from loss. I also hope to spur a conversation which highlights just how hard--but possible it is to see the "flowers appear on the earth".
My "flowers" have been the family and friends who have walked with me. It may sound corny, but with this blog, I'd like that garden to grow. 

Connie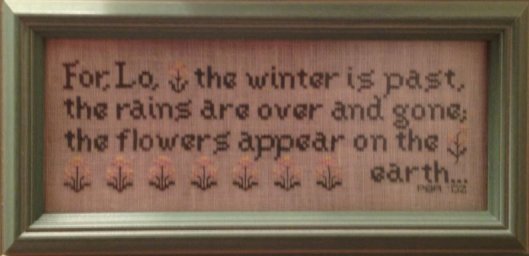 /