Shopping Cart
Your Cart is Empty
There was an error with PayPal
Click here to try again
Thank you for your business!
You should be receiving an order confirmation from Paypal shortly.
Exit Shopping Cart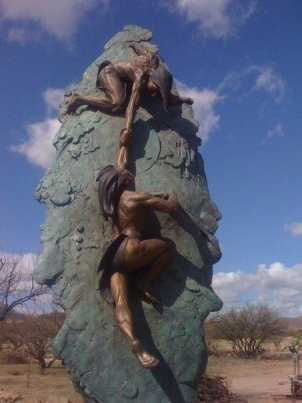 This sculpture is one of my favorite images. I took this photograph in an outdoor sculpture garden in Tubac, Arizona while visiting friends.
What made me think of it today was an article I just read in the New York Times about Gloria Steinem turning 80. I have to admit that I was shocked by learning her age. I guess because I will always think of her as being 38 when I was 25,  forty two years ago when I first heard her voice and took her words to heart.

I was the mother of two toddlers. This I knew-- I loved my children, but I was confused about what my life held in store for me. This I also knew--I couldn't quite grasp why I went to college--was it to learn how to do laundry, was it to learn how to vacuum, was it to learn how to have coffee with my neighbors? Each of those, of course, are rhetorical questions. No, that is not why I went to college. Actually, if I had, I would have failed miserably, because I was good at loving my children, but I was not good at all doing those other things that took up my daily life.
Enough true confessions. The story this morning is that Gloria Steinem and her "friends" were the outstretched hand to me depicted in this image. They pulled me up and made me see that there was a new world for women--a world where respect for exercising a new vision of what was possible.

Gloria Steinem lent a hand to women who were confused about what life expected of them. And I don't mean that the message was "forget your family." Quite the contrary, at least for me the message was figure out who you are as an individual, becoming more of a whole person better able to love your family.
The new vision was exhilarating and exhausting. I'm sure my children can attest to the exhausting part. It wasn't easy for the family unit to adjust to my new energy devoted to more than keeping a house running smoothly; a lot of my new energy was directed to learning about what I could accomplish.

Gloria and her words got to me. She sparked a flame that thankfully could not be extinguished, and I will always be grateful to her. She pulled up a 25 year old to new heights. And the strength she encouraged then, helped me again when I became a widow at 55. She helped instill a spirit of independence in me. So it is with gratitude that I wish her a happy 80th birthday, and hope that it's not too much to ask that she keep paving the way.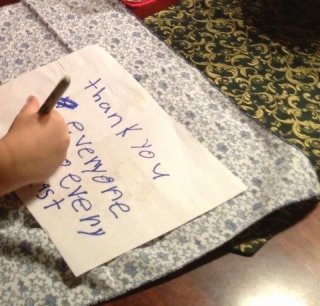 Last Saturday night, I celebrated an early Thanksgiving dinner with my son, daughter-in-law, and their six-year old son. As food preparations were being made in the kitchen, I peeked into the dining room. Without being asked, my grandson was busy "decorating the table." This is what he did: he wrote large place cards (like the one pictured) to place under our glass plates--the message read "thank you for everyone who ever exists" (some had "s", some didn't). Then he drew flowers to put in front of his mother's and my plates and in front of his and his father's he put a paper on which he had written  their favorite football team-my son's the PATS-his the Jets (the start of a friendly competition, I surmised). Then he got out his piggy bank and found four gift bags and into each he put some change and placed those  on our seats. He did all of this without being asked or coached. I will never forget his inspired generosity and creativity. We sat as a family around the table and each of us said a grace of Thanksgiving. 
The next day, we went to church. I don't know what it is about organ music, but I crumble and tear at the sound. As I sat there next to my son and daughter-in-law, I tried to compose myself, but then I saw two elderly women, bent over, but very dignified walking down the center aisle--each with  a helping hand-but each very proud that they could still walk. At their sight, I wilted and wept gently; I was a 67 year old child who missed her mother. I got out of my pew, tried to reassure my son that I was all right and walked to the back of the church to gather my wits. He followed-I said "I miss Grammie", he got it, we stood there for a moment and went back to our pew--my daughter-in-law handed me a package of tissues and later said "I knew exactly what happened".
Emotions run deep for me around the holidays. Eleven years ago, I didn't know if I would ever be able to honor them with the ways to which I had become accustomed. Thanksgiving was my husband's high holy holiday; he was a man of great gratitude and he loved to share the bounty of the blessings that he cared most about--his family and his friends. My parents and grandparents  instilled the memories of their own holiday pageantry--my grandfather sharpening the carving  knife with a steel, my granny carrying into the dining room a turkey that seemed almost larger than she. My mother's pecan pie, my father's eloquent graces.
Eleven years later, my children and grandchildren have taught me that life goes on, love endures and sadness falls away, making room for creating new traditions.
This Thursday, I will share my second Thanksgiving family gathering--this time with my daughter and her family. We talked this morning about how to fit our family and friends around the table--a table that will be covered with my grandmother's linen table cloth. We will light the candles, say a prayer of thanks and feel the presence of those who "live" vividly in our memories.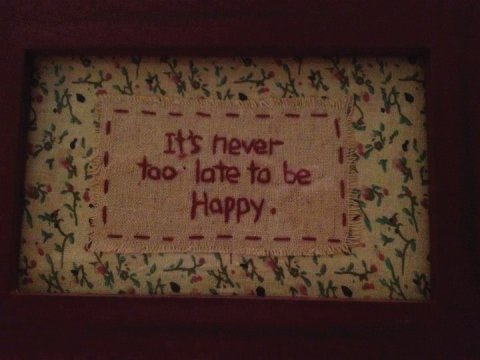 I suppose I should issue a warning to my family and friends that if you have touched a part of my life and I can find some image to convey that in this blog--well, I will. This is the latest contribution to my happiness.
This summer I had a wonderful lunch with long time friends where we lingered over stories of our shared experiences covering close to 40 years. We laughed, we shed a few tears and strengthened bonds which  were created over many years. There was an empty seat at the table--we were five when most of our experiences were shared as six. These friends loved my late husband, and we talked freely about how many of our memories included him.

Today, I received in the mail this sampler with a card from one of the couples with the following message that went straight to my heart . This sentence especially--"Con, saw this and thought of you--what a journey to happiness you've had."

I really didn't know what shape this blog would take. I knew I wanted it to be a companion to my book Above & Beyond Wellfleet. Little did I know, how much it would emphasize just how "Beyond" I've come.

The point of sharing this gift with you, is not to boast about how lucky I am to have such dear friends. It is rather to say--"hold on". When you can't see the possibility of happiness--it will come.  Connie

/