Shopping Cart
Your Cart is Empty
There was an error with PayPal
Click here to try again
Thank you for your business!
You should be receiving an order confirmation from Paypal shortly.
Exit Shopping Cart
Eleven years ago in November 2002, I took the photograph on the left. It was Thanksgiving Day. I was traveling alone in Canada trying to heal my broken heart ten months after my husband died. I wrote about my healing journey in my memoir Above and Beyond Wellfleet. I visited the Abbey Saint Benoit du Lac seeking solace on a day that really was my husband's high holy day. He loved Thanksgiving. Nothing made him happier than to be at the head of the table in front of a huge turkey, table laden with scrumptious food and surrounded by family and friends. One year, we had too many to be seated around the dining room table, so we brought the ping pong table up from the basement and covered it with several large damask table cloths.

Facing my first Thanksgiving without him was almost more than I could bear-so as I wrote in my book "I ran away from home." Almost as divine intervention, this beautiful Abbey was about a half hour away from the inn where I was staying. I went to the 11:00 o'clock Mass Thanksgiving day morning and listened to the Monks sing Gregorian chants. When I took Communion--I felt my husband by my side. I was consoled.
Last week, I went to the Abbey for joy not for solace. I was taking another Canadian sojourn. This time I was not alone. I was retracing some of my over a decade old experiences with my 11 year old grandson, Ethan. We stayed in the same town, No. Hatley, where I stayed in 2002. I asked Ethan if he would like to go to the Abbey. He is a remarkable child/young man--another blog for that description. Yes, he wanted to go.

What a privileged moment I had in store. He was entranced.So entranced that when we went to the Abbey gift shop, he looked for architectural drawings of the Abbey (which we did not find) so that he could design his future house with what he saw. I thought the visit would be quick. It was not. He took it all in. He asked questions about the altar, about the gorgeous container in which the holy water was kept. He even made an extremely funny comment. Which had to do with seeing a small group of people on a platform next to the tower. He wanted to go there, so we asked and were told, "no, that's not possible." When we were leaving Ethan remarked about the group on the platform, he said to me, "they must have been Monks dressed in casual clothing." Priceless.
Eleven years ago, I left the Abbey with a slightly uplifted spirit. Hope was beginning to melt my  icy heart. 
Last week, I left the Abbey laughing and full of joy. Both experiences are sacred.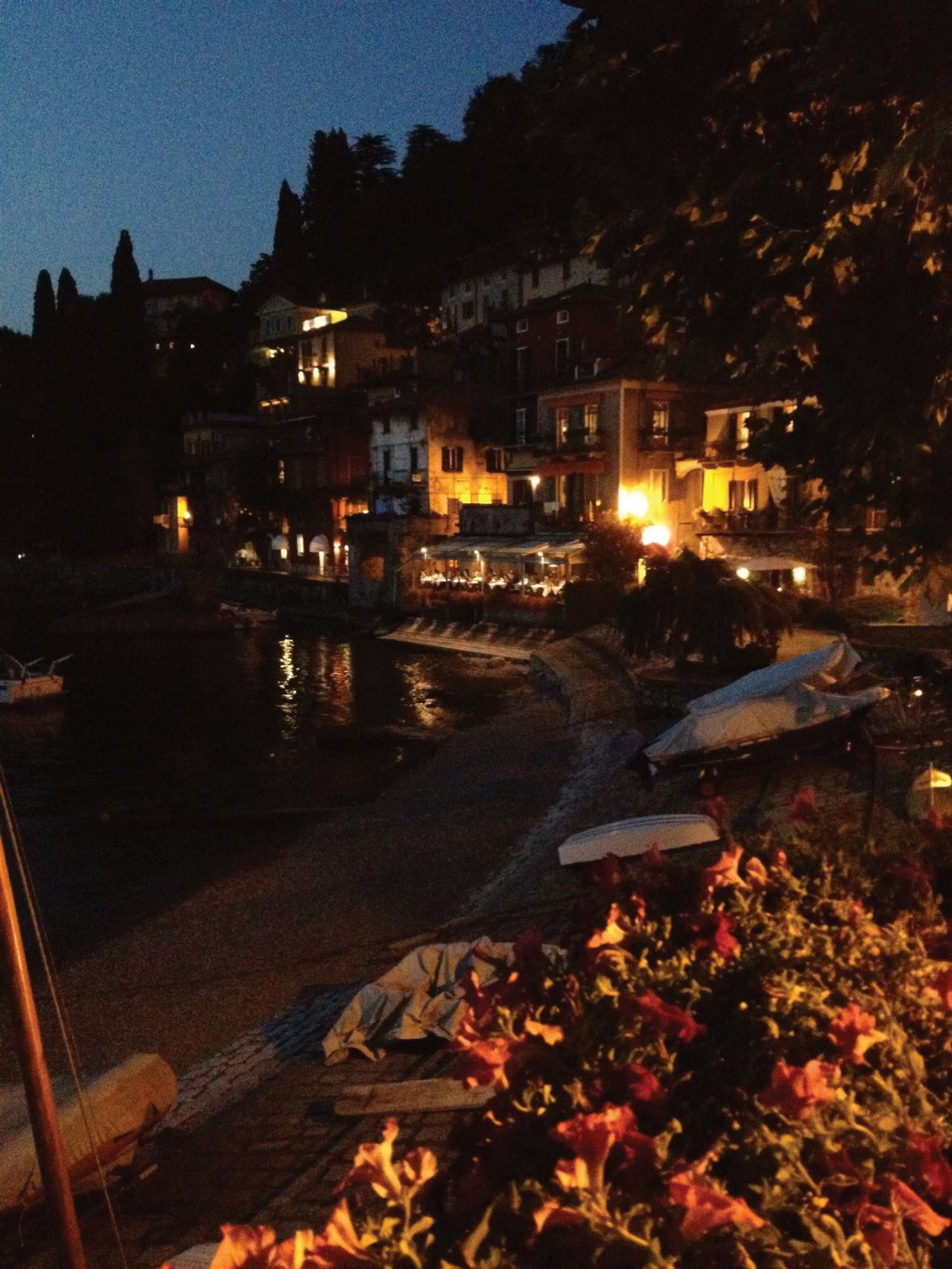 This photograph of Varenna on Lake Como in Italy was taken by my 14 year old grandson, Sebastien. It was the first of many photographs taken on a 2 week dream of a family trip to Italy and Switzerland planned by my daughter, Katie and her husband, David in honor of their 20th wedding anniversary.There were five of us including--their two sons Sebastien and Ethan and the grandmother--me.
It was not only the trip of a lifetime, but for me it was the continuing affirmation that one's sense of adventure does not have to diminish when a part of your life has through loss gotten smaller.
I wrote in Above & Beyond Wellfleet that traveling to interesting and beautiful places helped to spark a renewal and recovery. I began to forge a different dream. Ten years ago, I realized that I could appreciate new vistas and cultural events alone. I missed the repartee with my favorite traveling companion--my husband--but I learned to enrich myself and be grateful for the opportunity to learn more about the world or to simply discover what a nearby neighborhood had to offer.
I have quite a bit to say about this category "travel"; I hope I will not bore you. My view is written as a widow--which I believe is such a depressing  and potentially limiting word. I hate it, actually, and think it should just be reserved for spiders.
In the words I share in "Welcoming Life", I hope to blow the lid off the limiting aspects of the word "widow (and widower). Taking advantage of travel opportunities will be just one aspect of encouragement.
The past two weeks I spent with my family seeing two countries I never expected to see--Italy and Switzerland-- emphasized just how unexpectedly fortunate I am. In the past two weeks, I saw the thrill expressed by my grandchildren at seeing one of the highest mountains in the world. On my refrigerator, I see everyday the thrill of my five year old grandson catching his first fish. It just doesn't get better than that.

/