Shopping Cart
Your Cart is Empty
There was an error with PayPal
Click here to try again
Thank you for your business!
You should be receiving an order confirmation from Paypal shortly.
Exit Shopping Cart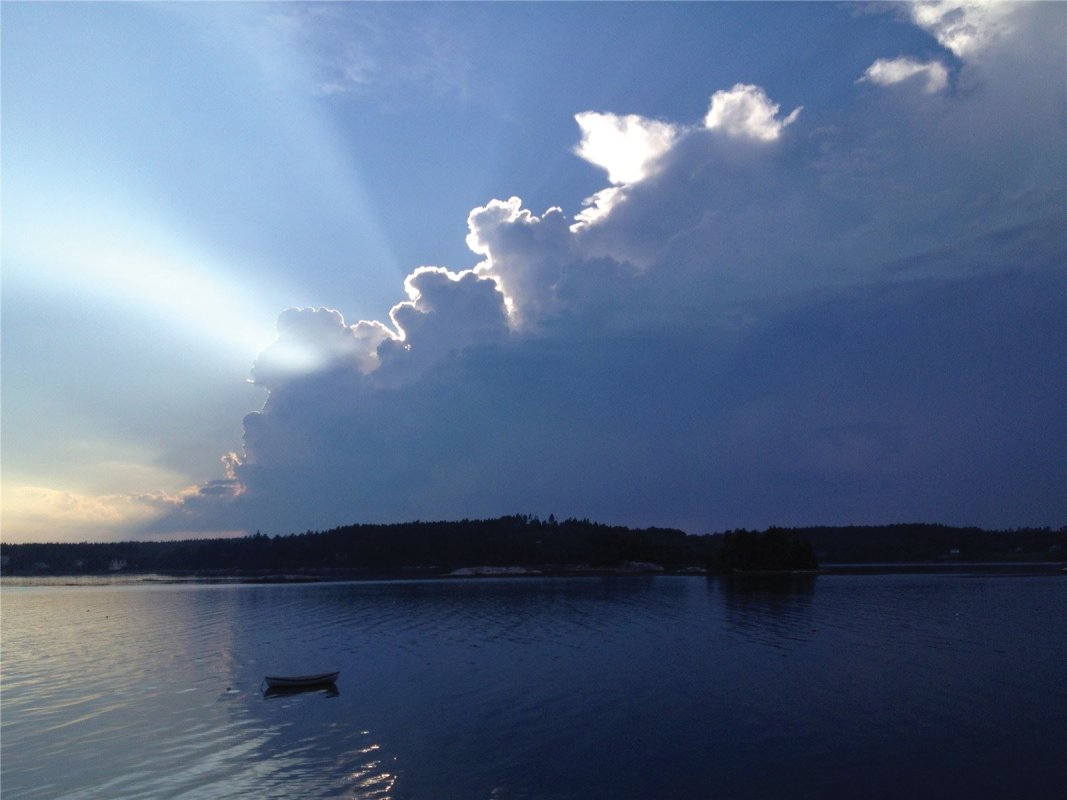 I've written and deleted many words in the last several hours trying to capture how I feel "twelve years later." The twelfth anniversary (somehow I don't feel the word anniversary should be associated with sad events-but there it is) of when Larry left our house for the last time.
The words I've written and rejected don't do justice to the excruciating moment when Larry died, nor do they capture what has transpired in my life in the succeeding years. They seemed trite and redundant.

But this image does for me what my words cannot. It is a photograph I took in Maine last summer. I knew then as I know now that its meaning was epic for me--which was I have been able to let the light back into my life. I've shrugged off the dark clouds which I thought would shroud me forever.
The image also echoes my belief (possibly childlike) that I believe Larry is in the clouds--along with others who went before and after him, and that they swirl happily together in a blessed firmament. 
The shooting rays of sun struck me as a sign of hope and confirmation that life goes on--that in
fact it is possible to "welcome life after loss."

I will light a candle tonight in memory of Larry, I will silently toast the life we shared together and I will pause to be grateful for those who love me and have shared my journey.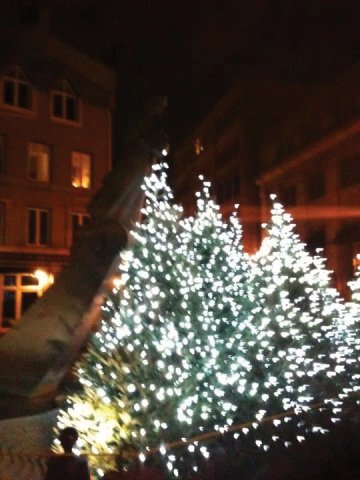 I took this photograph eleven years ago in Quebec City. I was searching for the light. I had "run away from home" not able to celebrate the happiness of the holidays.My husband had recently died, and I couldn't face being faithful to the traditions that had brought us so much happiness.My heart was dark.The lights of these trees in  Old Town Quebec City with the beautiful monument standing guard above them helped me see the light--helped me to see that all was not dark.I saw the light.
Last Friday, December 14, the lights flickered again.The unspeakable tragedy that struck the families of Newtown, Connecticut made all of our hearts grow dark. How could something so horrific happen?I suffered the loss of the love of my life--but we'd shared a good life together; I had treasured memories.My grief paled in comparison to what I knew these families were suffering.Words are little comfort when your world is turned upside down, so why am I writing this?Perhaps, because the image of these lighted trees and the hovering monument gave me hope eleven years ago, and I pray that in some way that hope can be felt in some small measure by all of us.I have always regarded this season as a time to focus on peacefulness.A time when all of us can take stock of what really matters--broadened to include all faiths--a time to come together and concentrate on the miracles of friendship and love of family.Every night for the past six nights I've lit a candle and said a prayer for the families who have suffered loss last week and this year. The worst part of grieving is when you feel alone--my prayer is that some how, some way these families will feel the light of our hopes for their peace.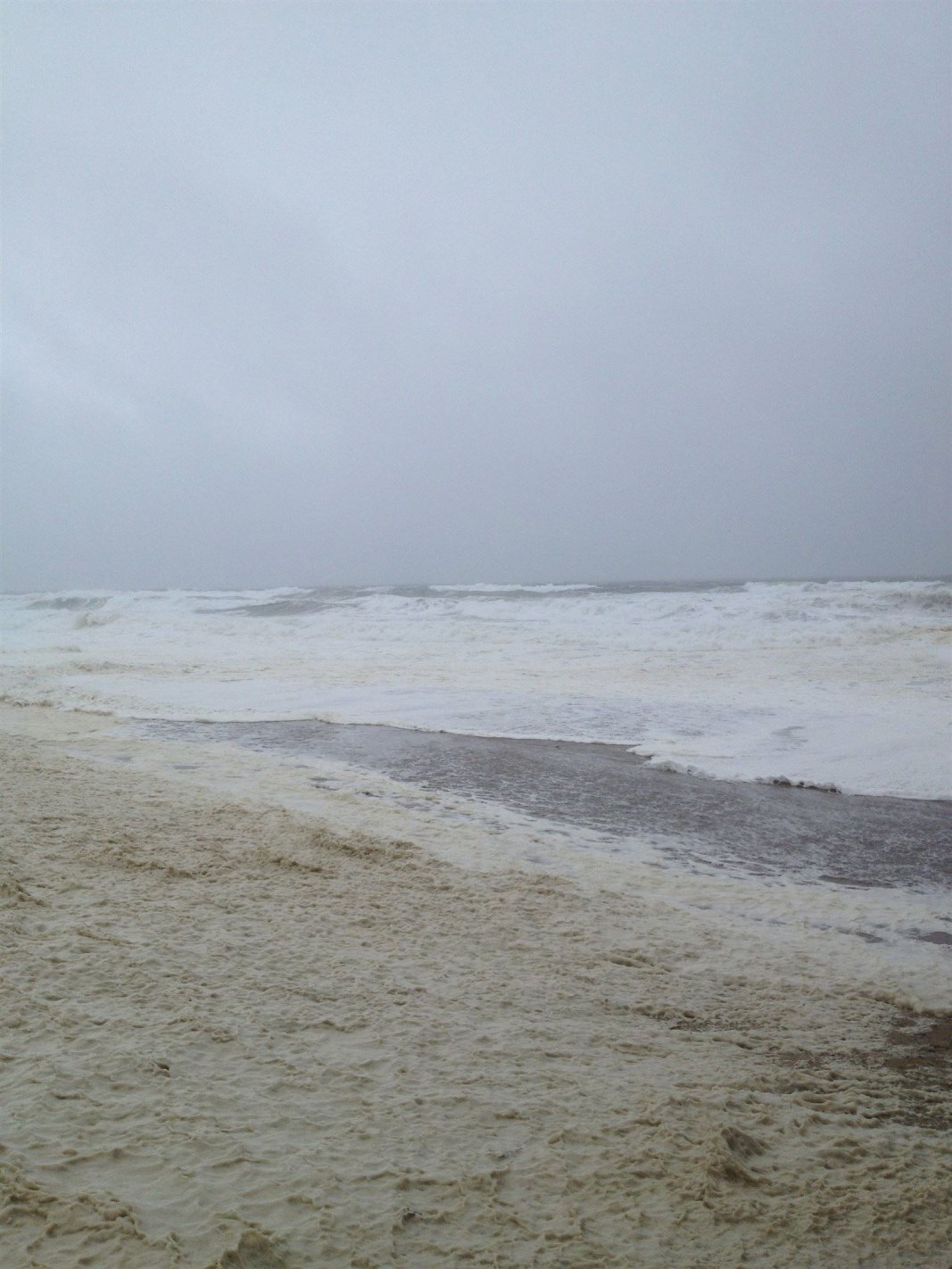 Last Monday, October 29, I cooked my way to coping with the dire predictions of the havoc Hurricane Sandy would wreak. The predictions were accurate and great pain and suffering were caused by her battering winds and unprecedented coastal tide surges. Entire communities up and down the Eastern seaboard were decimated. The rage of the storm even moved to the mid-Atlantic states. As I write this, residents of lower Manhattan in New York City, Long Island Sound communities, and New Jersey remain hostage to the wicked damage that Sandy caused.Loved ones were lost, homes were leveled, transportation systems were paralyzed--heartache everywhere.My family and I were fortunate--our homes and families intact.Those who were similarly lucky still felt the pain of those who suffered--still shared the heartache indirectly.My country's citizens never cease to amaze me.We come together.We cross all boundaries. We don't just revel in being thankful for being spared, we open our hearts to those who weren't.Right now, we are in the midst of intense political campaigns.Hurricane Sandy pushed aside partisanship.
Cold shoulders were replaced with handshakes and hugs.Let it always be so.I've always relied on music as being the great unifier in times of trouble. So I will close this post with some of the words from Bruce Springsteen's The Rising and dedicate them to people we all care about who we don't know but feel a kindred spirit:

"How do I begin again.With these hands.I pray, Lord.I pray for the strength,Lord.I pray for the faith,Lord."
The photo is of my beach right before the storm.The waves were at a tempest pitch.Perhaps nature is angry at us.That discussion is for another time.For now, I hope we  find as much peace with one another as we can and reach across any philosophical divide to Rise Up.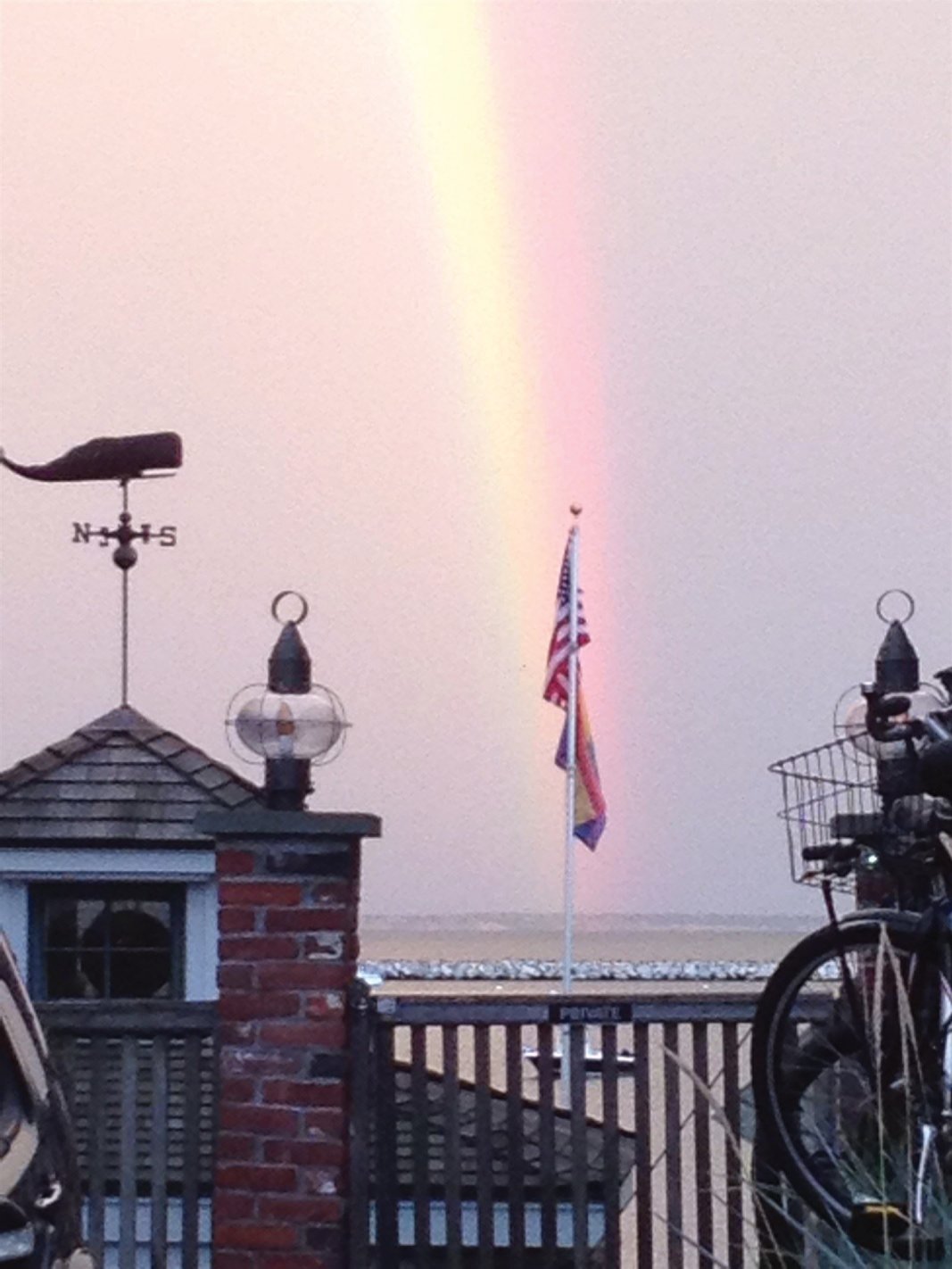 Last evening, I was on Commercial Street in Provincetown, MA. As I was walking to meet my friend Carol Courneen, I turned my head and saw a rainbow highlighting the American flag. The rainbow gracing the flag struck me as a hopeful image as we all reflect on the tragedy of  9/11.The horror of that day cut deep, and for the victims' loved ones the wound will never heal. We all searched for some shred of hope eleven years ago,  and I felt it rekindled last night--hope along with a wish for peace.

/