Shopping Cart
Your Cart is Empty
There was an error with PayPal
Click here to try again
Thank you for your business!
You should be receiving an order confirmation from Paypal shortly.
Exit Shopping Cart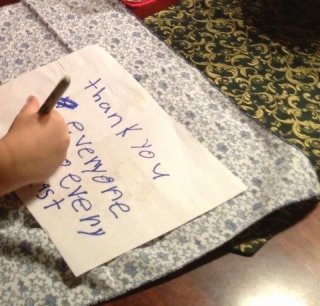 Last Saturday night, I celebrated an early Thanksgiving dinner with my son, daughter-in-law, and their six-year old son. As food preparations were being made in the kitchen, I peeked into the dining room. Without being asked, my grandson was busy "decorating the table." This is what he did: he wrote large place cards (like the one pictured) to place under our glass plates--the message read "thank you for everyone who ever exists" (some had "s", some didn't). Then he drew flowers to put in front of his mother's and my plates and in front of his and his father's he put a paper on which he had written  their favorite football team-my son's the PATS-his the Jets (the start of a friendly competition, I surmised). Then he got out his piggy bank and found four gift bags and into each he put some change and placed those  on our seats. He did all of this without being asked or coached. I will never forget his inspired generosity and creativity. We sat as a family around the table and each of us said a grace of Thanksgiving. 
The next day, we went to church. I don't know what it is about organ music, but I crumble and tear at the sound. As I sat there next to my son and daughter-in-law, I tried to compose myself, but then I saw two elderly women, bent over, but very dignified walking down the center aisle--each with  a helping hand-but each very proud that they could still walk. At their sight, I wilted and wept gently; I was a 67 year old child who missed her mother. I got out of my pew, tried to reassure my son that I was all right and walked to the back of the church to gather my wits. He followed-I said "I miss Grammie", he got it, we stood there for a moment and went back to our pew--my daughter-in-law handed me a package of tissues and later said "I knew exactly what happened".
Emotions run deep for me around the holidays. Eleven years ago, I didn't know if I would ever be able to honor them with the ways to which I had become accustomed. Thanksgiving was my husband's high holy holiday; he was a man of great gratitude and he loved to share the bounty of the blessings that he cared most about--his family and his friends. My parents and grandparents  instilled the memories of their own holiday pageantry--my grandfather sharpening the carving  knife with a steel, my granny carrying into the dining room a turkey that seemed almost larger than she. My mother's pecan pie, my father's eloquent graces.
Eleven years later, my children and grandchildren have taught me that life goes on, love endures and sadness falls away, making room for creating new traditions.
This Thursday, I will share my second Thanksgiving family gathering--this time with my daughter and her family. We talked this morning about how to fit our family and friends around the table--a table that will be covered with my grandmother's linen table cloth. We will light the candles, say a prayer of thanks and feel the presence of those who "live" vividly in our memories.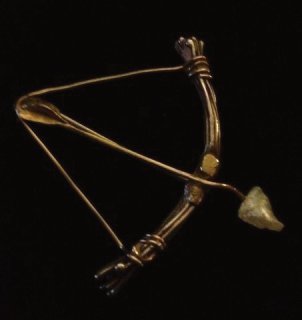 Our family got together last Saturday for a family wedding. When I explain about our family, I think it would help if I handed out a diagram of who belongs to whom; it's a gnarly, wonderful tree. The fact is, we all belong to each other.
At this wedding celebration, there were husbands, wives, former (I don't like ex) husbands and wives, cousins, grandchildren, aunts, uncles and friends. We were all there to share in the happiness of two people promising their love to one another, and we were all caught up in the moment of that precious devotion.
The bride was beautiful, her husband adoring. There is something very special about witnessing unabashed love. It breeds a sense of renewal and hope. 
One of the things I worried about after my husband died was whether or not I would ever feel that sense of wonder again--the wonder of witnessing true love. Would I be jealous? Would I be envious? Two emotions that wreck the heart and soul--so I fought against the temptation.
When the loss is raw, it is hard to be exposed to lovers swooning. I did protect myself, by just turning away from events where I knew my husband's absence would be devastating.
My heart has healed. And nowhere was the evidence more revealing than at this wedding. I danced with my grandchildren, laughed with my children and their spouses, and felt privileged to share special memories--decades old.
My husband had this cupid's bow designed. It was his first present to me. I explained to the bride that I take it out of its black velvet bag for occasions where love is celebrated, and her wedding was one of them.
The pearl arrowhead points to my heart when I'm wearing it. In a corner of that heart is a tiny ache, the place where I keep my husband's love close to me. The rest of the heart rejoiced in the laughter and friendship felt this evening.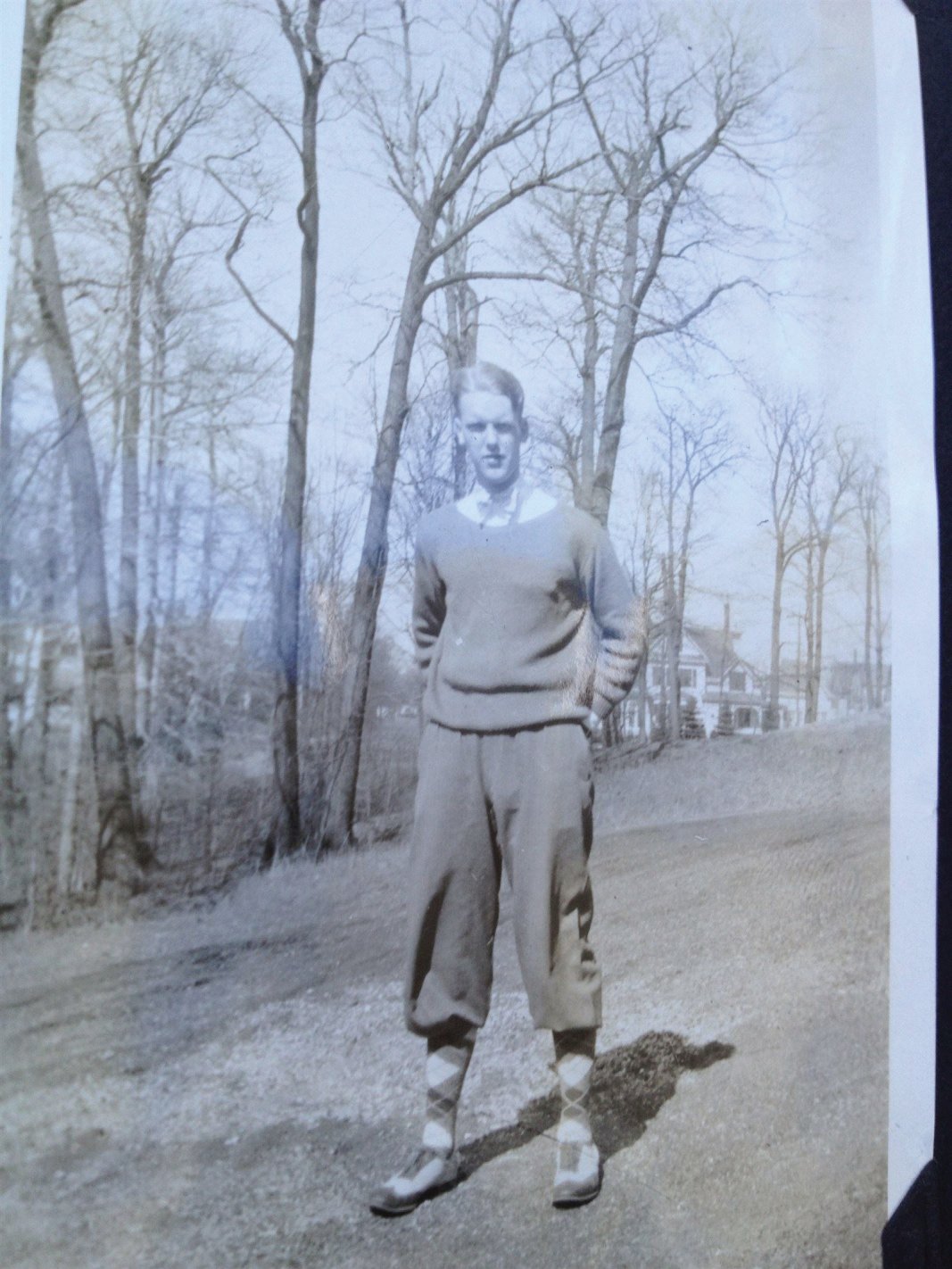 Several days ago, I found my grandmother Wilder's photograph albums. There are four. They capture my grandmother's life from about 1909 to the last one dated, 1929. The photograph pictured here is of my father, in 1929--he was eighteen. 
There is a lot for me to think about after having spent the last several hours turning the pages of her life. Her photographs captured joy and good family times, but I know that her life was not all joy and good times. She lost her first child, Ruth, (whose photograph is in the first album) when she was barely a year old. My father was her second child. I wrote in Above and Beyond Wellfleet that for the first few months of my father's life, she kept his bassinet by her bed, and would wake up several times during the night to make sure he was breathing. When my father was eleven, she lost her beloved husband, Solon, when he was just thirty nine years old.

None of these sad events are revealed in the photographs. Instead,  the images show how much she made of her life as a single woman, bringing up two boys while healing her broken heart.

Unlike many single women then and today, she was financially secure. While the photographs show some of the advantages that this security allowed her, they also show what meant the most to her--her cottage in Friendship was a recurrent theme throughout the albums, showing the times she shared with her husband, her boys, her friendships and connection to the people of Friendship.
When I look at this photograph of my father, I see the dashing young man he was at eighteen and the handsome man he continued to be throughout his life. He was afforded the best education, attending Andover Academy, and receiving graduate and post graduate degrees at Harvard. But his life wasn't easy either.

I stared at this photograph for a long time this morning. Taking in his confident stance, his argyle socks, his handsome face. He did not know then that he would lose three fortunes and suffer many other challenges over the next sixty eight years. 

Like my grandmother, he did not focus on the things that went wrong in his life, he concentrated on what went right. He never talked about what he'd lost, he always made it clear that he appreciated what he gained. When I was a teenager, I asked him how he managed to be so cheerful and not

complain about some of the circumstances that he faced. He answered with this aphorism "I cried when I had no shoes, and then I saw a man who had no feet." He really lived like that --with my mother's help.

That's my family history. It's an honorable legacy which helped me cope with my challenges. It made it easier for me to truthfully write the subtitle of Above and Beyond Wellfleet which is "A memoir about welcoming life after loss." 
The images I sifted through this morning renewed my sense of optimism. I felt strengthened by the courage revealed in a family beset by sadness, but determined to shirk that weight. Sometimes it is hard to push away the phrase, "life isn't fair". These albums are the proof that the phrase is a waste of time.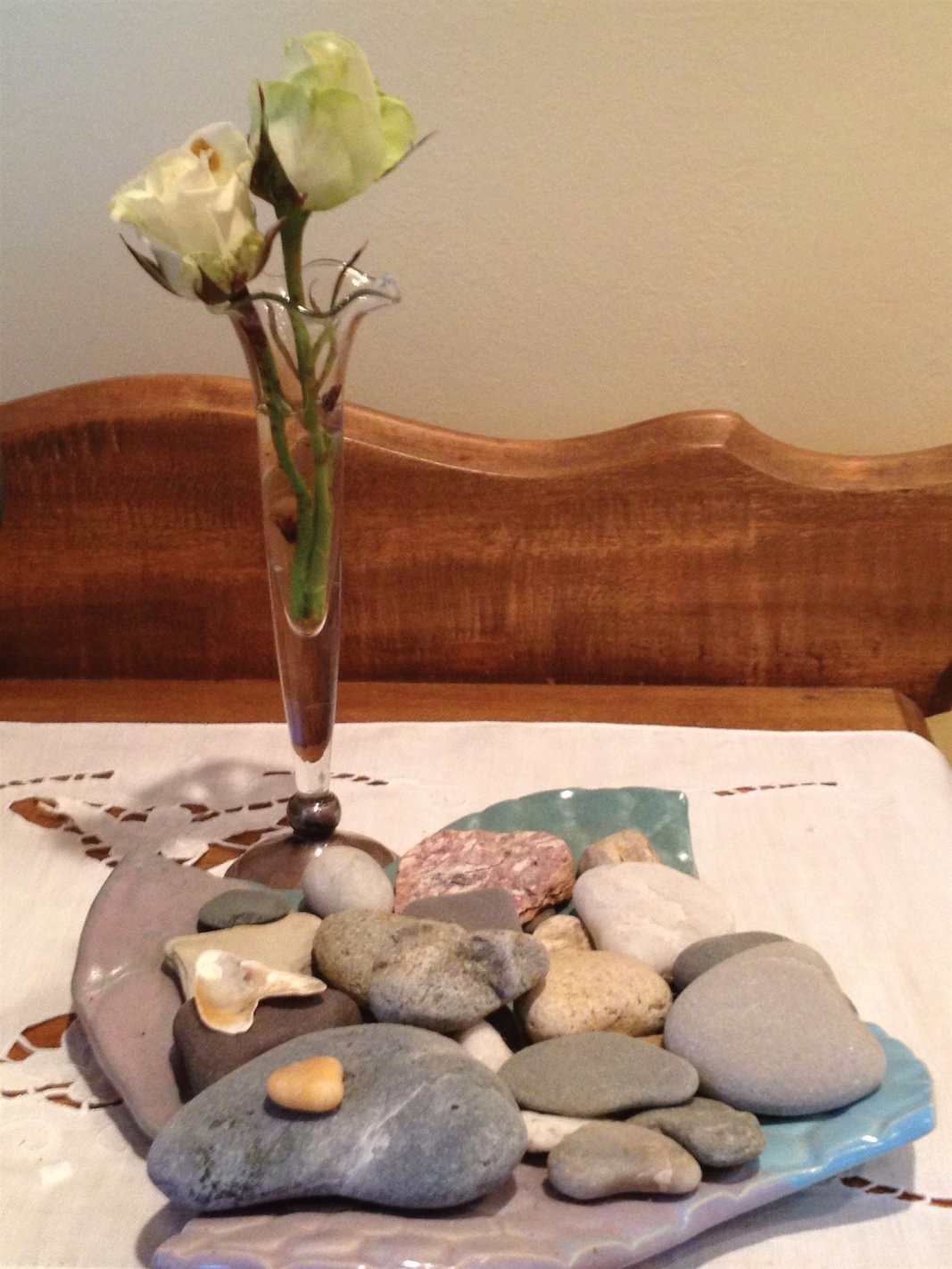 Divorce. It is an ugly word. An experience to be avoided if at all possible. But some times life happens, and divorce happens. It happened to me and my family. I write in Above and Beyond Wellfleet, that when it does "a certain innocence is lost forever."
My first husband and I did divorce right. When the dust settled, we realized that the best way to honor our dissolved marriage was to mutually love our children with all our hearts. And we've done just that.
In bringing up our two children, we never divided and conquered. We worked hard to keep our families whole and not broken.
We even added new richness to our lives. Step mothers and fathers became friends, and a new half sister was added to our family. What could have been forever sad, turned into a situation where my children have received more love versus less. 
Let me be clear, I am not advocating divorce as an answer to difficult problems. I pray that those I love and care for never have to experience the heartbreaking experience. I am writing this because like grief, the subject all too often is avoided. Discussions about what happened and why, who is related to whom are suspended somewhere in a forbidden ether, and worst of all is if the anger  grows stronger and wounds the innocent.
If the worst does happen, fairness demands  putting away personal feelings as soon as possible and focusing on the health and well being of the innocent people affected--usually the children.
I spent the last weekend with my good college friend, Carol. She was in my wedding, and as a gift I gave my bridesmaids a crystal vase (the one in this photograph). The engraving on the silver base is the date of my wedding--June 17, 1967. The pottery plate in front of the vase is a collection of heart shaped stones and shells that Carol collects. I was struck by the message each conveyed.
I will not be celebrating a wedding anniversary today, but I will be celebrating the creation of two wonderful children, who grew up loving their mother and father. There is no greater legacy.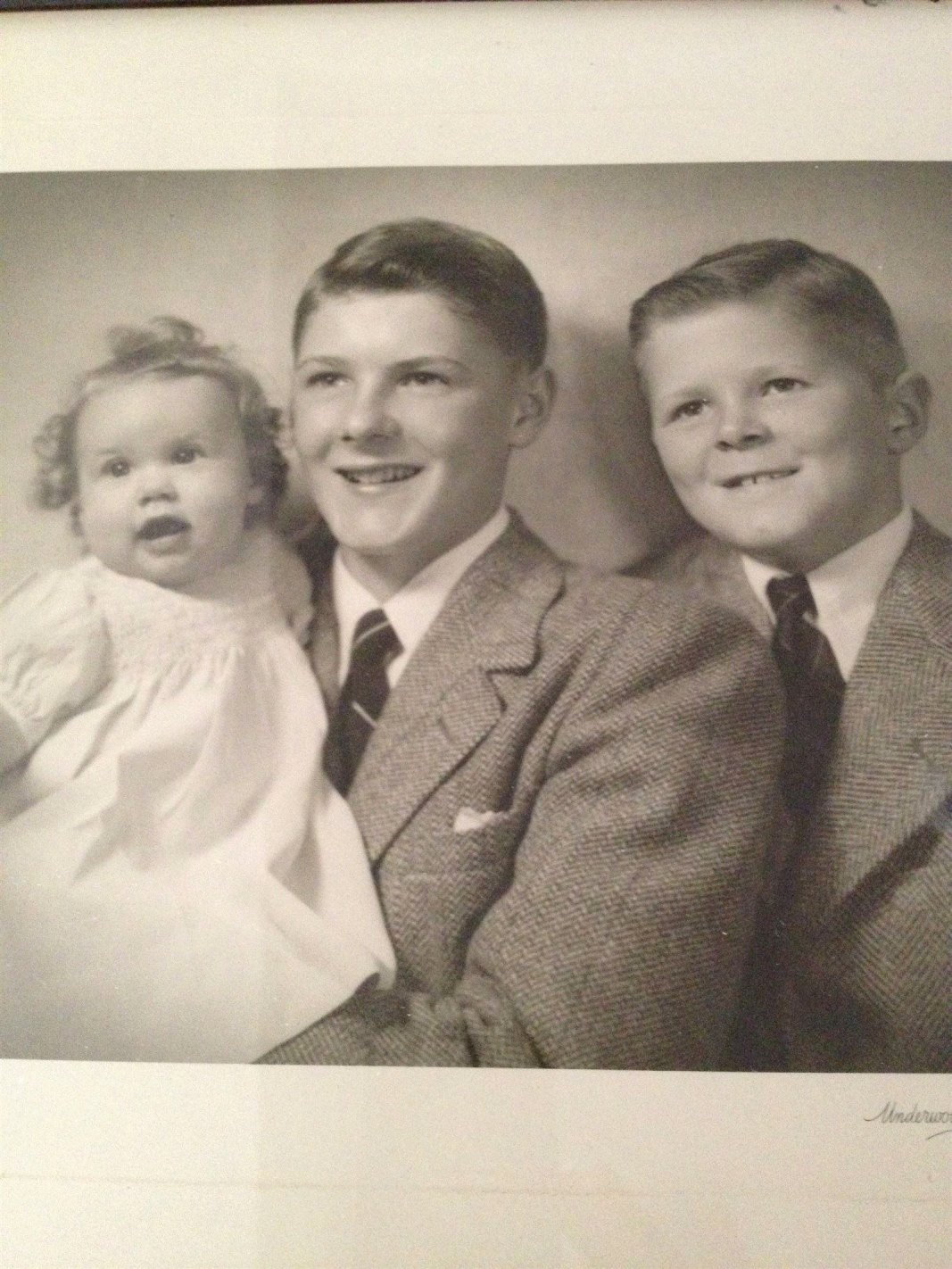 My brothers, John and Deane were nine and thirteen when I was born. They welcomed me into their lives, when they could have viewed my arrival as a competitor for parental attention. They did just what this photograph shows, they held me close and through the years have held me up.
I wrote in Above and Beyond Wellfleet that our family was complicated, but close. Sometimes, I think because we had complicated family relationships, we concentrated on what was important--respecting, supporting and learning to understand one another.
Because of our age differences, we did not fight over toys--well, I didn't--I think it was a different story between the boys when they were younger. Instead, they taught me how to throw a football (at age 5) and how to drive a car (at 16). 
As adults, we've held vigils together for our mother and father. Being together with them as they faded from our lives. We've consoled each other when our family losses have been almost too much to  bear.
Now, we watch each other as we age, feeling a new and close camaraderie.
Last week, I spoke about my memoir at a  luncheon arranged by my brother, Deane, along with his wife, Gudrun. I was so honored that he had such faith in me. Each person in the group seemed to have suffered some kind of loss, and the experience touched me deeply. I will remember the words spoken to me forever.
The most important memory will be looking out at the audience and seeing my big brothers and their wives (Gudrun and Claire). Keeping families together, loving each other is not easy, under the best of circumstances. I couldn't help feeling that our parents were witnessing this moment, and patting each other on the back saying "job well done." I tend to do that--imagine my parents talking to each other in heaven, and watching over us.
After the luncheon, we shared an evening together. We toasted each other, we sang the old songs--ones my brothers taught me. That is also part of our heritage, even with the span of years separating us. We all like to sing--I remember the words, my brothers have good voices. 
I usually choose a category for each blog post--it's a toss up on this one--"family" or "gratitude". I will choose "family", knowing that I am filled with gratitude.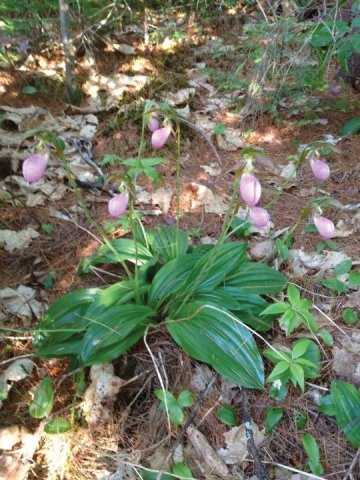 In a few days, the yearly process of "opening" our family's cottage will begin. I wrote in Above and Beyond Wellfleet about how my grandmother after the untimely death of her husband secured this cottage for future generations. My grandchildren are the sixth generation to spend part of their summers in this grand place.
The memories that have been captured in this cottage are priceless. Babies have been washed in hundred-year old small tin tubs, children have splashed in the "favorite puddle" using half mussel shells as boats, lobster picnics have been enjoyed on the hard-granite rocks in front of the cottage--sometimes with a lapping incoming tide ready to wash away a few remnants so that we could delight in welcoming crabs who joined us for the feast. 
For over one hundred years, this cottage, brilliantly designed and built by my great grandfather has brought countless hours of joy to my family. It is our touchstone with the past and the future. Much about it has not changed, and there is the temptation to hang on to that timeless continuity. It is seductive in an ever-changing world to grip tightly to those things that can be latched onto and act as reminders that "some things never change." 
Our family has learned, though, that some things must change about this cottage to keep it standing for future generations. While we might want to hold on to the old stove that my great grandfather invented--it had to go. Years ago, my mother who was unable to climb in and out of the old claw bathtub removed it and installed a shower. 
Those reading about those changes might think--"what's the big deal?" But when you are dealing with a family-shared cottage that has welcomed six generations--pretty much any change is a big deal. I use to be the "gripper". I used to resist the changes. I excused myself, because when I gripped the hardest was after my husband died, and I couldn't fathom anything in my life that had given me a sense of constancy changing.
I've learned a hard lesson. I am a convert to accepting change as a way of moving on to accepting what is most important. Which in the case of this cottage is that it remain standing in good shape so that the seventh generation and beyond will make their own memories.
I hope that the lady slippers that appear every year in late spring on the side of the wooded path will always be there. I will look for them first thing when I get out of my car this weekend. But, they may not have made it through the winter--even though they have for decades. I will be sad if they are not there, but the memory will prompt my acceptance of cherishing the joy of the past and relishing the thought of future happiness.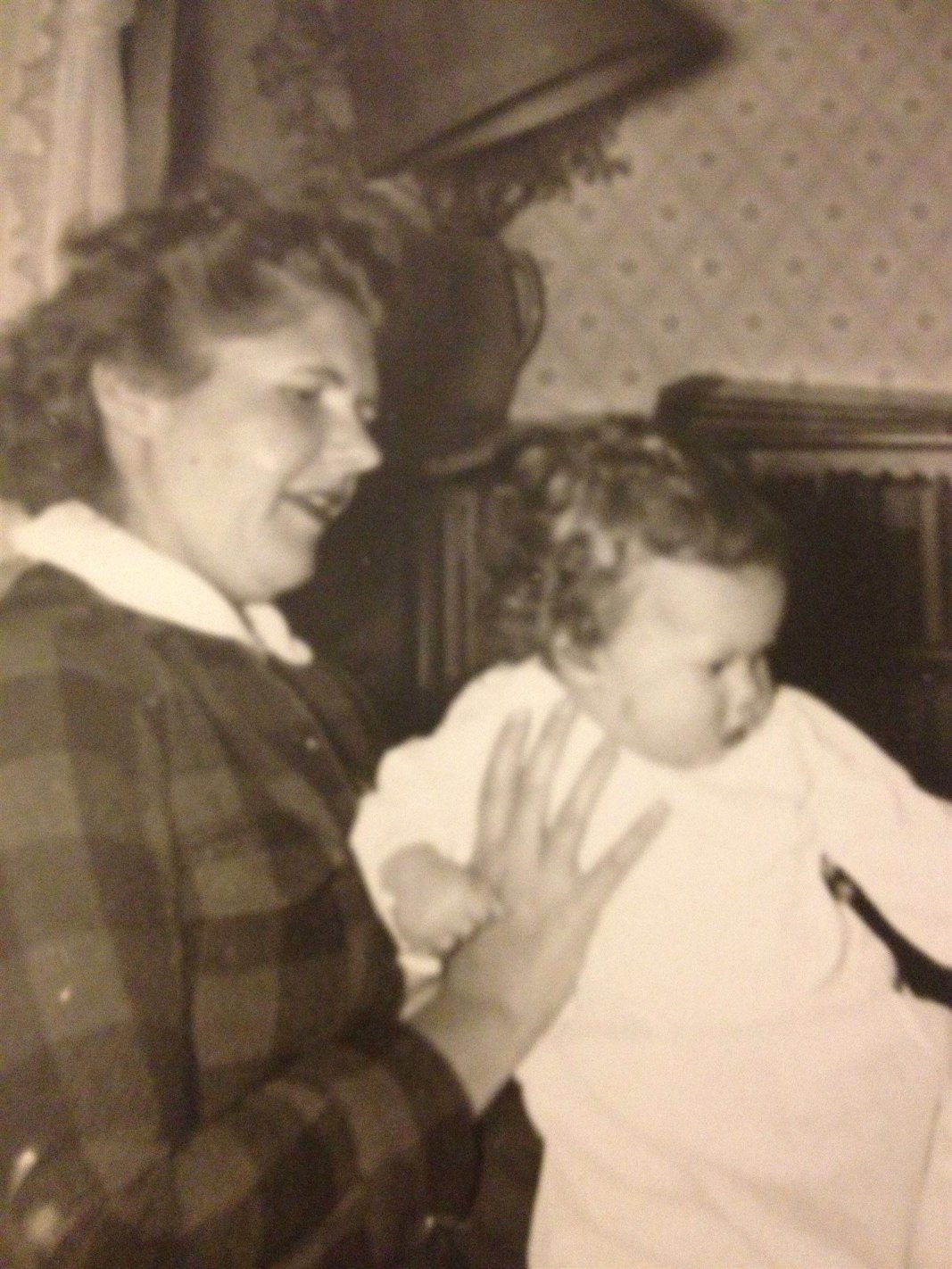 When I started writing the stories for Above and Beyond Wellfleet, I didn't realize that I was going to devote a chapter to my parents. The book is about recovering from the death of my husband, and as I wrote I realized that most of my strength came from the two people who taught me what courage and overcoming adversity were all about--my mother and father.
On Sunday, we will celebrate Mother's Day. Some feel that such holidays were created as a way to sell cards and flowers; I prefer to avoid such cynicism.
There aren't enough words for me to write which would adequately honor my mother. This photograph tells the story. Her hand always held me up--even when I could no longer physically feel it. Her touch was always gentle, but her strength was legendary. Yes, legendary. She faced a near-death battle with cancer and never, ever lost her smile or will to survive. She faithfully followed my father wherever the chance for earning a proper livelihood took our family (while I say she followed, she actually led the way). She brought her elderly parents into our small home when I was a teenager to care for them for almost ten years--until they each passed away--each never seeing the inside of a nursing home. 
There are more words, and I will write them, but for today, I will honor this brave woman with all my heart- as well as saying a special prayer for her this Sunday.
I have two other very wonderful mothers for which to be grateful--my daughter and my daughter-in-law. I watch them in awe as they nurture my grandsons. They always, always put their families first. They manage to do that while becoming each day more beautiful, strong women.
Yes, I am big fan of pausing to honor those people who make and have made my life so complete.
Happy Mother's Day.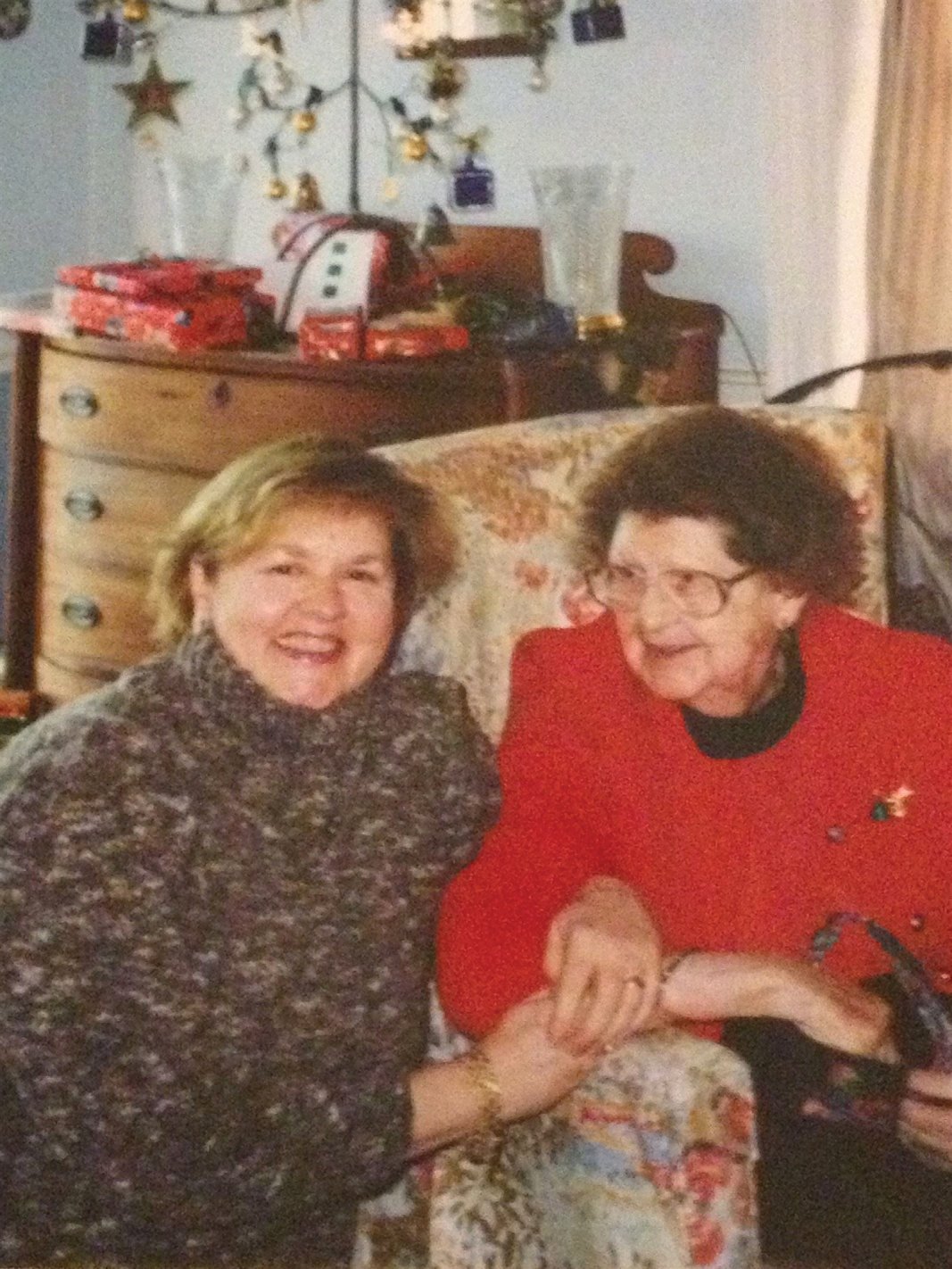 Sixty two years. For sixty two years, I spent Christmas Day with my mother. And before that with my mother and father (he died in 1996).I almost skipped a year.In my book Above & Beyond Wellfleet, I share the story about how the first holidays without my husband was too much for me to bear.I write "I ran away from home". I took a four-week sojourn traveling to five cities in Canada-two stops in Quebec Province, Toronto, Montreal, and Ottawa.I stayed in small hotels, visited museums, took long chilling walks,tested many onion soup recipes, wrote nightly emails to friends and family who were following me describing what turned out to be a reawakening of appreciating not what I had lost but what I had slowly gained.I love traditions,but on this trip, I broke many of them.For example, I spent Thanksgiving dinner at Les Trois Canards-a small bistro. I had onion soup and listening to Christmas music.Before lunch, I visited and prayed at the Benoit Abby in the mountains-working so hard to make my prayers about gratitude.That really was the point of my trip to make the holidays completely different from traditions that made me happy--but at that point the old traditions accentuated my loss.The trip worked its magic.I found that while my loss was great, I was still tethered to what had made me happy for most of my life--my family.My 91 one year old mother (pictured at our Cape House at Christmas the year before ) waved goodbye to me from her assisted living home as I started my journey-believing and more importantly accepting that this Christmas would be the first we would not spend together.My children and grandchildren met me on December 14th in Montpelier, VT for what they thought was going to be our family Christmas that year.But they were wrong.I surprised them all Christmas Eve Day. I surprised mother, gave her hug and said get on your red Geiger jacket (one pictured in the photograph) you're coming to my house for Christmas Eve. I called my daughter and said "what are you doing tonight" --she answered well, I don't know-I said "why don't you come to my house?" "Why?", she said "you won't be there." I said, "oh, but I will."I then called my son in Connecticut (unmarried at the time) and asked him to come for Christmas Day. I power shopped for the groceries and had a great time at Marshalls buying new Christmas decorations.I was coming home for the holidays, I was continuing an unbroken record with my mother.A record that stood intact until she died six years later at 97.The heart that thought it couldn't take the happiness of the holidays learned that the message of the holidays is about love, faith and family.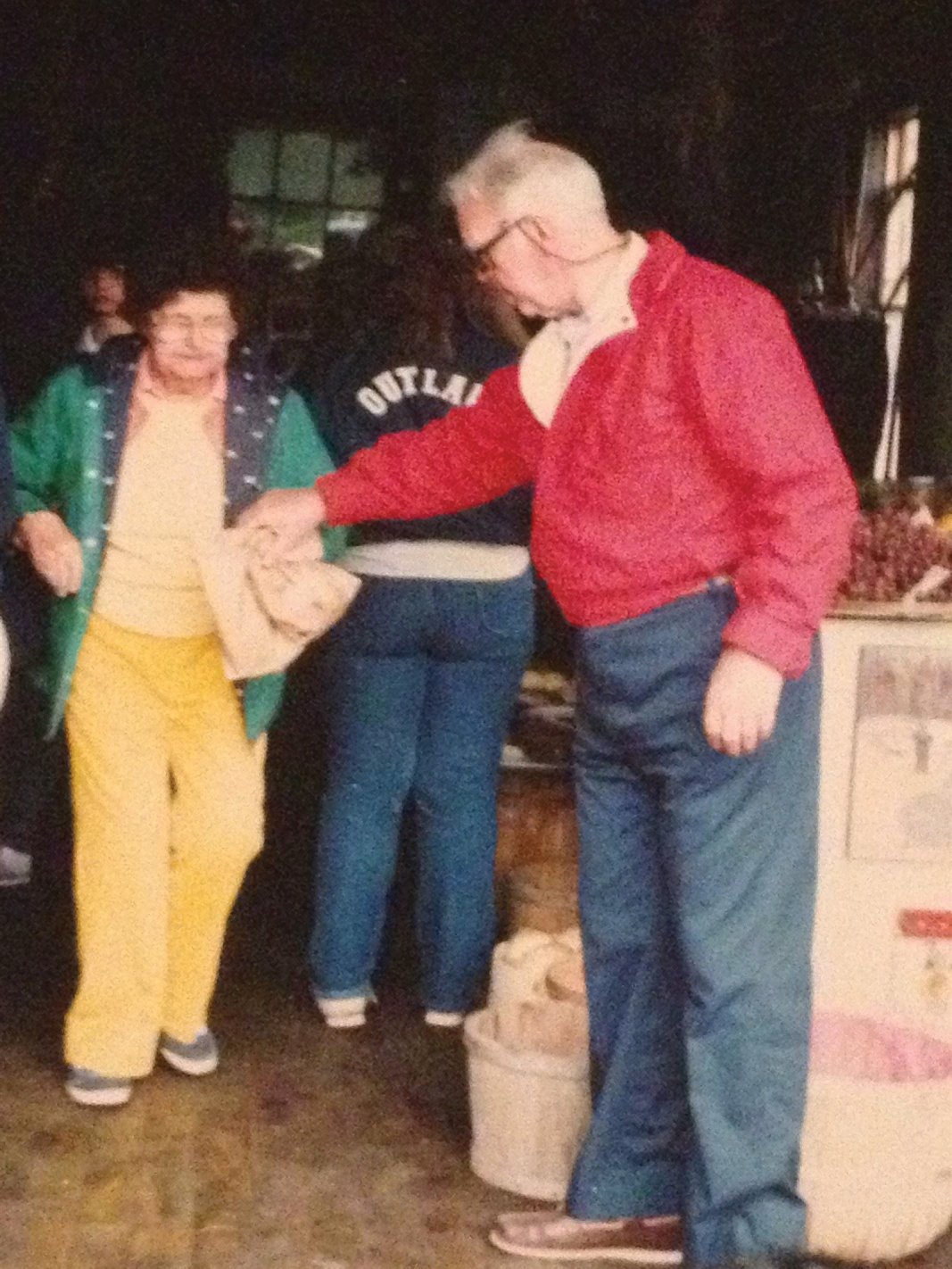 I began my day by looking up favorite Thanksgiving recipes and soon found my head filled with a flood of holiday memories.They started with my parents and how they made them all special.The images rivaled Norman Rockwell themes--father sitting at the head of the table with the ancient carving knife and steel (I used to love to watch my father sharpen the long knife  before surgically carving whatever roast was before him).My mother would have set a beautiful table and prepared a scrumptious meal. I can still see the eager family faces calmly waiting to dig in after my father said a gentle grace.
I wrote a chapter about my parents in Above & Beyond Wellfleet; they shaped my happiness and forged my ability to withstand sadness.They were able to influence me so positively, because they were good people--but it was always the abiding love that they had for one another which was the greatest gift.
This photograph is badly in need of photo shopping. While it isn't a perfect photograph,it is a perfect view into who they were as a couple.I've saved this photograph as a treasure.My parents were in their 80's when it was taken, and they are coming out of one of our favorite farm markets (the School House Farm in Maine).My father is doing what he always did, watching out for my mother's well being.She was not steady on her feet and neither was my father--but they held each other up--always had.I don't know how I had the good sense to take the photograph.I don't ever remember taking my camera to the farm market, but this day I caught their hands together, my mother's determined face, and my father's first thought--protecting my mother.

I miss them.But I am grateful for the lessons they taught.They gave me the true recipe for what Thanksgiving is all about--eternal love.

/