Shopping Cart
Your Cart is Empty
There was an error with PayPal
Click here to try again
Thank you for your business!
You should be receiving an order confirmation from Paypal shortly.
Exit Shopping Cart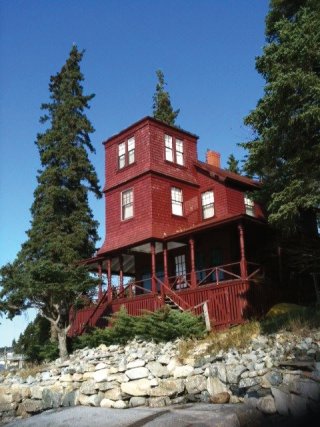 For almost sixty days, this grand cottage on the coast of Maine has been my family's home. My great-grandfather, William Henry Wilder, built this cottage at the turn of the century for his family and six succeeding generations have been grateful for his gift.

It is a family home. One that my family shares with my niece and her husband--by splitting the summer in half. Our stay begins in late May (as soon as weather allows the water to be turned on without freezing the pipes) and ends July 31--two days from now.
Each year, 67 and counting, as the time to pack the cars and stow our personal items in the attic draws near, I am struck with a bit of melancholy. I believe I started to sense a kind of sadness about leaving even when I was a small child. I especially remember being told by my parents that I could NOT bring anything alive home with me. Usually, I disobeyed, the evidence discovered when live periwinkles, starfish, and who knows what else began to smell--I just had to bring part of the sea with me.
Now, I bring memories with me to mull over as I review the two months of experiences. I pack up images in my head to take home, rather than sea treasures. I've shared over the last several weeks some of the images , such as "jumping for joy" and different generations clasping hands together at the water's edge. 
There are so many more.

I associate sounds as well as images when I think about the many splendid moments--like the echo of laughter during a badminton game, or the squeal of delight in trying to maneuver a homemade raft in choppy water, or watching a small laser sailboat capsize on its mooring during a torrential rainstorm and hearing the confident voices saying--"no problem, we can right it easily."

These are the images, but there is more to their richness . There have been pure halcyon moments--like seeing my two children together under this old roof playing a game they've played for years around the dining room table, and this year being joined by some of their children. Or watching older cousins helping to teach the younger cousin, how to navigate slippery, seaweed-covered rocks and look for barnacles ("those white things") to help secure footing. And watching my son-in-law and daughter-in-law show their love for this adopted summer home.

Above all, my packed-up memories are ladened with gratitude to those who came before with the vision of creating this family place, and now to those who will secure its future. My wistfulness of thinking about closing the door for the last time this summer turns very quickly to savoring the memories and looking forward to opening the door next year to begin it all again.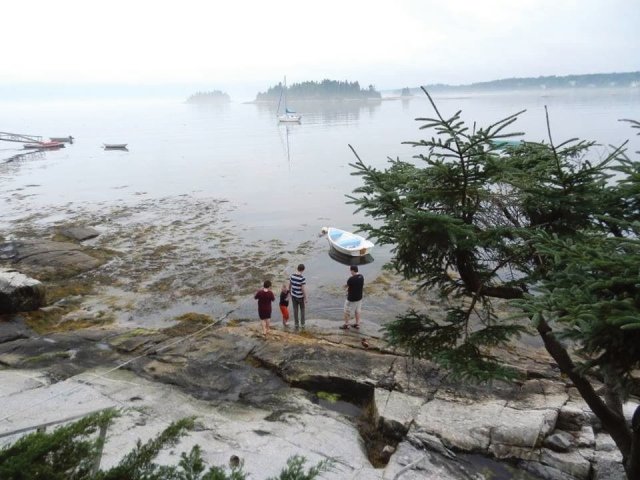 Good times go so fast. I took this photograph a week ago of my son and my three grandchildren on the rocks in front of our Maine cottage. The fog was just lifting, so hopes were high that the "messing about in boats" could begin. The sun did shine and the "messing" began.

As I stood on the porch, getting this image into focus, I was looking at the fifth and sixth generations to stand on these rocks. I am the fourth. Each of us has come to this place in the first months of our lives. While I know I am blessed to watch my grandchildren and children experience the beauty of this place and honor its heritage,I am also acutely aware of the fleeting moments.

This morning, I watched my son's car pull out of the driveway headed for home, and tears streamed down my face. I did not want to shed them, but there they were reminding me of how fast the previous five days had flown by. The solace was, we didn't squander any of them.
We laughed around the dinner table, we played a card game that we play every year, we rowed the boats, swam in what we never admit is frigid water, held hands so we wouldn't slip in the seaweed,  took in just about everything our surroundings offered and acknowledged how precious it was to have three generations under one roof. The hustle of the good times continues, friends and family are ready to make more happy memories for the next few weeks.

My nostalgia lingers, though. I try to push it away, but the memories of the recent week and years past creep into my thoughts. For now, I need to sit with them--just for awhile. Not so long that they dampen the happy times ahead, but long enough to absorb the echoes of the laughter and the conversations-a respectful pause to relish memories, thereby making them less fleeting.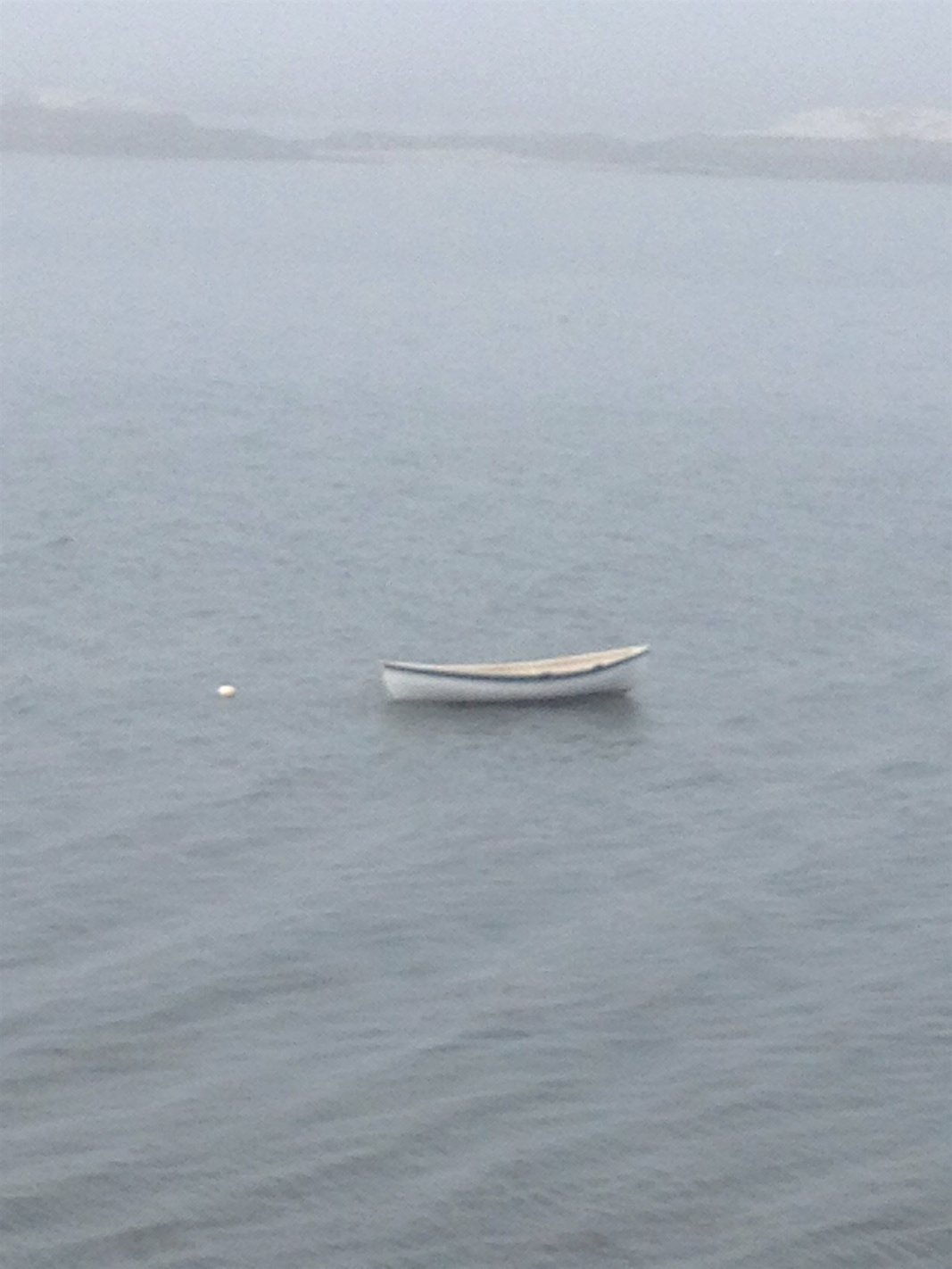 In Kenneth Grahame's beautiful book, The Wind in the Willows (a CBW favorite) The Water Rat says to Mole, "There is nothing--absolutely nothing--half so much worth doing as simply messing about in boats."
Ratty was right. My head is full of memories of watching my children, Katie and Rob, learning to maneuver the outboard motor boat, doing shallow water drills. Until they mastered the technique, which was watching for rocks, cutting the motor and tipping the motor up out of the water, they couldn't get their "captain's license", until they could do that without hesitation. They each  passed with flying colors and now they will begin the training process all over again with their children.
Our Maine cottage is the perfect (well almost perfect, there have been some adventures) training ground. The Bay is protected by a series of nearby islands-so boundaries are established for first solo voyages. A dinghy is tied up on shore to hop into if a problem seems to be developing. One might guess that the grandmother's eyes (that would be me) are always on the lookout.
The motor boat is the "let's go on a picnic or fishing" boat. The dinghy is like the "training wheels" boat. BUT the boat that means the most to our family is the boat in this photograph. It is a Jim Steele Peapod. Steele was considered to be one of the best builders of small wooden boats on the coast of Maine--by which that pretty much means the whole wooden boat-building universe.
My family had admired the beautiful boats for years. My daughter took the admiration to another level. One day when we were having breakfast at the cottage, she announced that she was going to go to Brooklin, ME, take her toddler son and find Jim Steele and ask him to build a Peapod for our family. She found his house, knocked on his door and after the proper introductions (Ethan's smile helped), she asked Mr. Steele if he would build a Peapod for our family. She explained that the Peapod would honor her and her husband's anniversary and the Peapod had long been a dream of her grandfather's and her recently deceased stepfather. He was kind, but allowed that he was retired. Katie gently kept the conversation going. Finally, Jim said, in a very measured Maine way, perhaps if you wrote me a letter and explained why the Peapod would mean a lot to you, I will consider it.
Done. Katie came home, told the story and said "mom, time to start writing." I did. Jim Steele read the letter; he built a Peapod for our family. He and his wife delivered the Peapod to us the following summer, on a perfect day--cool, crisp, bright sunshine--Northwest wind. We sat on the porch with his wife Pamela, ate tomato sandwiches and watched his creation bob up and down in the water.
We knew that we would always treasure this boat and be grateful to this master builder. We did not know how much we would treasure the moment of sharing our time with him on the porch. He died several years later--too young at 70.
Jim Steele built 178 Peapods. Ours was one of the last. Katie had the foresight to ask him to put a brass plate on the inside of the boat, detailing the provenance. One wooden boat admirer (Bob Barancik) wrote after Jim Steele's death--a national treasure is gone. But not his boats. They will outlive anyone reading this column by at least a century or two." 
The Peapod is a worthy boat as well as a beautiful boat. Several years ago, it carried a friend and me all the way around Friendship Long Island--emphasis on the word LONG. We started out on a rising tide, beautiful sunny day and came home at low tide with threatening thunderclouds and rain. Don't ask me what I was thinking. I won't do that again. But I will row to my heart's content nearer to home, I will watch with pleasure the boat filled with grandchildren and family. And just as lovely--I will watch it sit in the water, as a beautiful piece of art, honoring the legacy of  a kind, generous and brilliant man.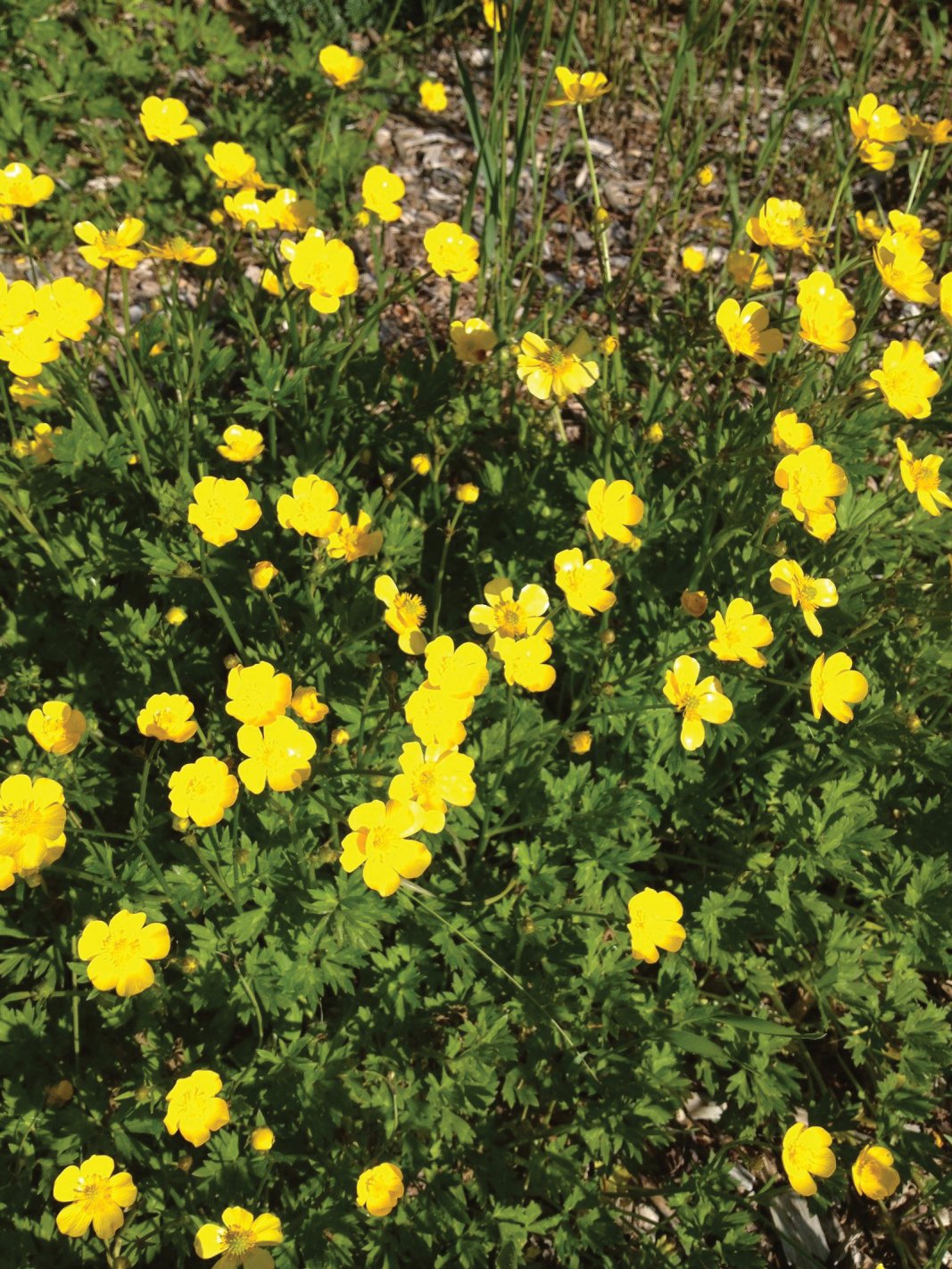 The buttercups are back.They weren't in bloom last week, but within a day, because of the warm weather, yellow clumps appeared in glorious profusion. Seeing them was reassuring, but I was also startled at how quickly they came "to life" as  did the Lady Slippers in the woods--which also blossomed.No where is the passage of time more evident than at our family's cottage in Maine. This will be my 67th year in greeting the buttercups and Lady Slippers, their sight this year, while welcome, also started me thinking about how fast "time flies." I got a clutch in my throat when I thought about holding a buttercup under my children's chin playing a silly game which is if you see a yellow reflection, the person likes butter. Wasn't it just yesterday that I held that buttercup under a toddler's chin, breaking into giggles. My reverie continued when the refrain from Fiddler on the Roof came into my head  "is this the little child I carried,  is this the little boy at play?"
I have a double dose of living those words, adding my grandchildren to the refrain. , All three grandchildren are "little boys." All three have this cottage deeply imbedded in their memories--their ages range from 15-5, and all three have seen the buttercups blossom here. My mind continues to wander as to how quickly each year hurtles to the next. How fast a small child can become a doting and loving parent, nurturing her and his own family. How did my fifteen-year old grandson suddenly become six inches taller than I am, or my eleven-year old grandson start to write his own book, or my soon -to-be six year old grandson earn a medal in a "kids marathon?"
I try not to ask myself "where does the time go?" I try not to become melancholy, or wish I could put some experiences in slow motion--just to be able to savor the moment a little longer. Poetry and song lyrics have always affected me, and I remember a song by the late Jim Croce "If I could save time in a bottle." But I don't want to do that, because I know I would then miss the next delectable feast of family conversations around the dinner table or the cherished reading of bedtime stories.
Time must fly; we cannot harness it. We can, however, keep our memories by having  our minds "wink them into permanence." That poetic phrase was written in poem which my college English Professor wrote to me as a graduation gift, June 4th, 1967. She taught me to write, and now I realize she taught me much about appreciating life.
Instead of wanting to grab hold of a memory in the making a little bit longer, I will "wink it into permanence," and eagerly await the gift of making another.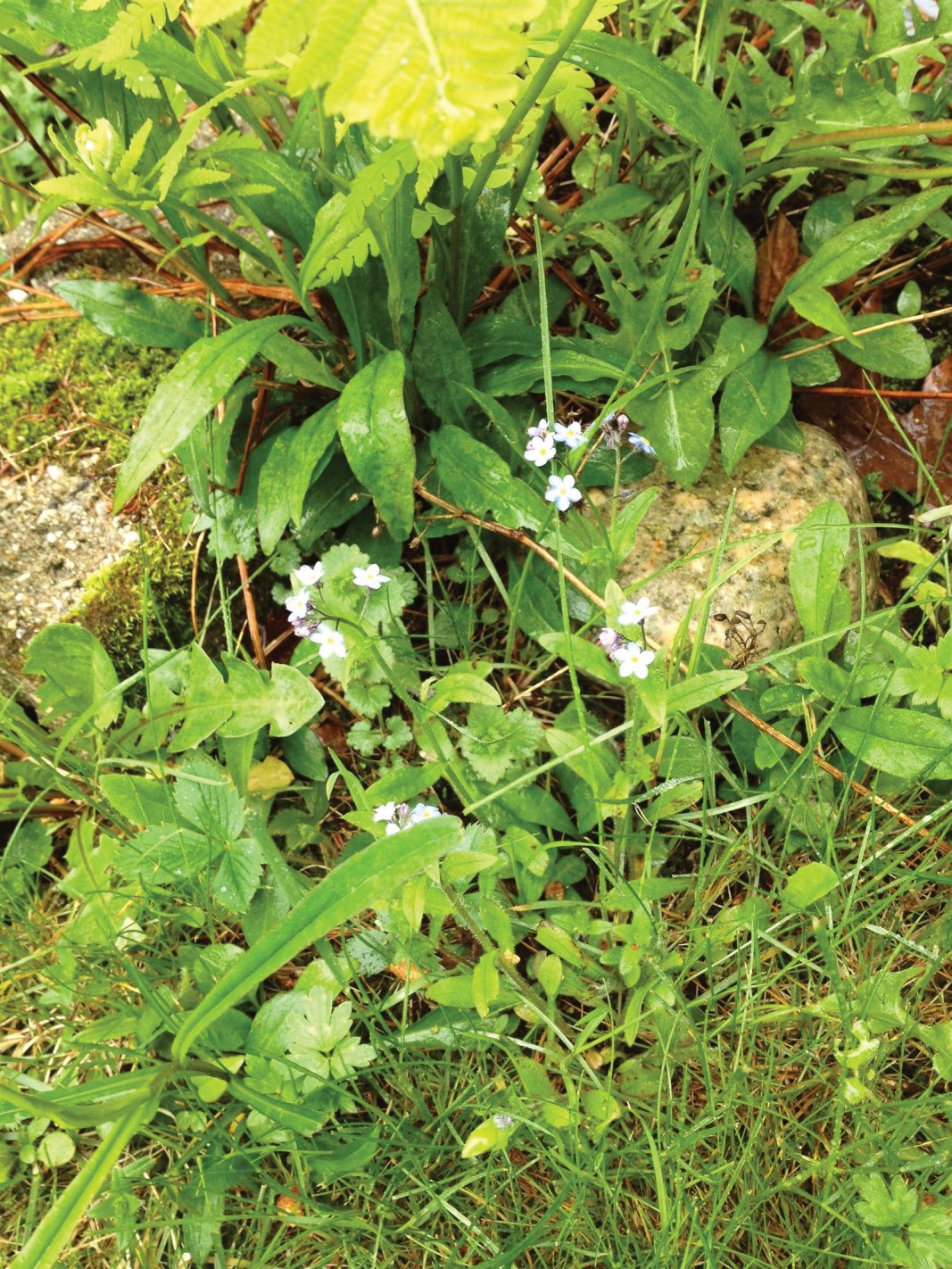 Tucked in among the tangle of weeds and granite stones are clumps of Forget-Me-Nots which appear every spring in five or six places around our family's  turn-of -the century cottage in Maine. Like the Lady Slippers in the woods, these little blue flowers bloom each year, acting as reminders that even under harsh conditions, beauty can survive.

Henry David Thoreau described the Forget-Me-Not this way "It is more beautiful for being small and unpretending."
The phrase perfectly describes the natural beauty that delights the eye here; there are no formal gardens, no sculpted trees or trimmed hedges. There is a relatively new (ten years is considered "new" here) stone wall, which was built in honor of my parents. The family with whom we share the cottage the other half of the summer planted a variety of day lilies in back of the stone wall. There is a row of Rosa Rugosa by the side of the cottage which blooms mid summer and whose branches are bent by the prevailing winds from the ocean. As the spring and summer seasons progress--Buttercups and red and yellow  Wild Paintbrush begin to dot the grass.Tiger Lilies bloom in front of small fence to the side of the cottage and Blue Flag Iris  bloom beside a circle of stones that marks the place where my grandmother planted her garden. My grandmother came to this cottage for over fifty years; she came in late May and left in late October. We have photographs of the garden she created and tended, but the next generations were/are not here long enough to care for a garden, so we depend on the beauty provided by the wild flowers and hardy perennials.

They are survivors. They carry a welcome message. They say "Forget-Me-Not."

/