Shopping Cart
Your Cart is Empty
There was an error with PayPal
Click here to try again
Thank you for your business!
You should be receiving an order confirmation from Paypal shortly.
Exit Shopping Cart
| | |
| --- | --- |
| Posted on October 28, 2012 at 8:20 PM | |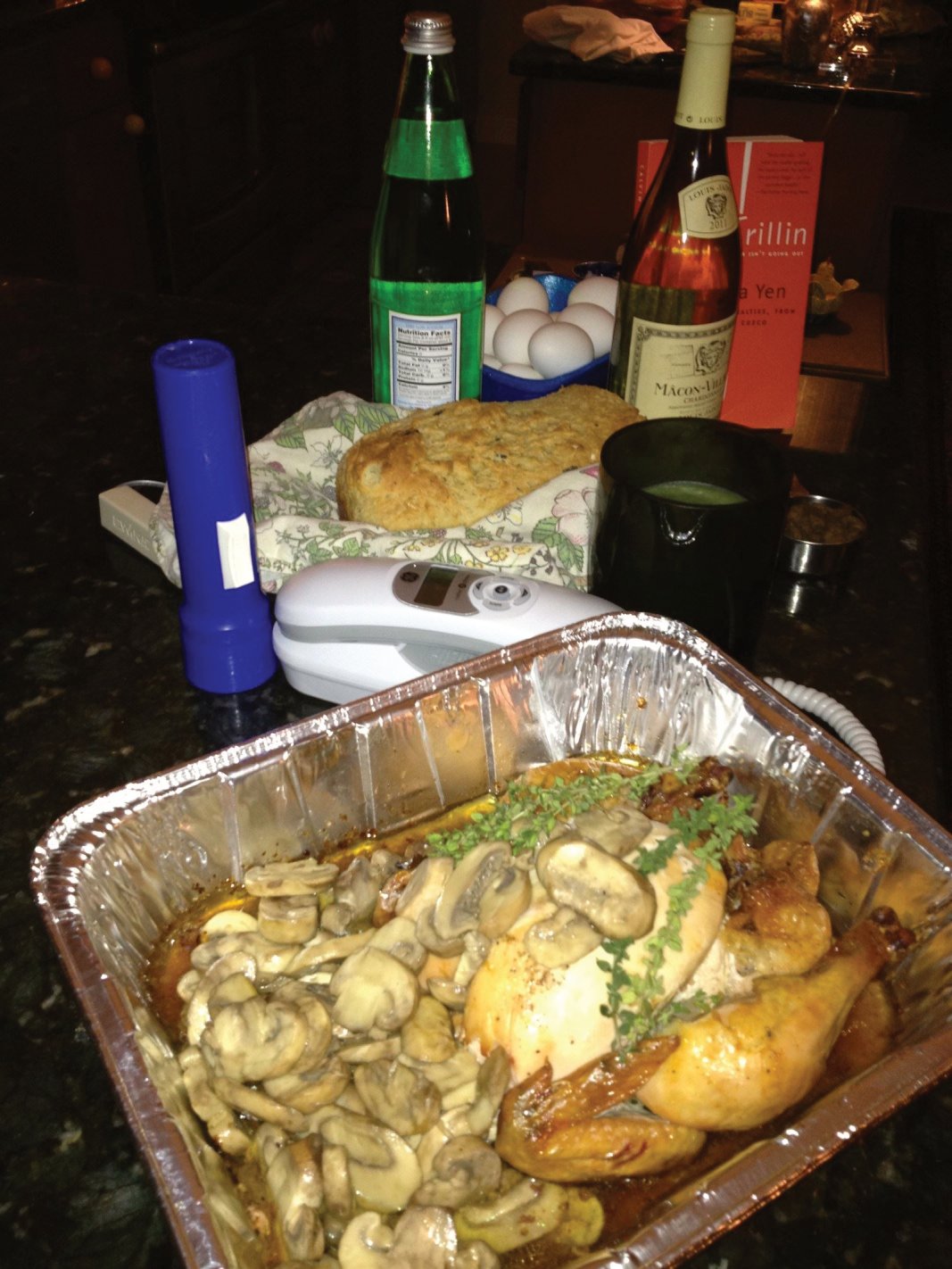 This photograph shows a bit of the preparation for possibly being without power for the next few days. Most of what is seen needs no explanation. What you can't see is the little measuring cup with Sophie's (my little dog) food. The brown object in the middle is a gluten free rosemary and kalamata olive loaf of bread I baked this afternoon and there is a cinnamon loaf rising. The book I've set aside is Calvin Trillin's --Feeding a Yen. I have LOTS of books, but this book calms me--it's about food and humor written as only Calvin Trillin can write (I admit as a writer, I have  Trillin envy). Right now, I am sitting at my computer waiting to hear the wind beating against  my condo's windows. It's dark now. But I peek out every once in awhile to watch the leaves drift down from a big tree to the left of my patio. The scene is mesmerizing. But I am conflicted. Half of me is mesmerized--half of me is on high alert. I've referred to my strong nesting instinct before in this blog, and my book Above & Beyond Wellfleet made it very clear that in order to recover from the loss of my husband, I had to find a home in which to put my heart. It is hard to think about a strong--very strong--wind damaging my nest--even harder though is to think about the fact that there may be loss of life due to this storm which we are being told could rage out of control wreaking havoc up and down the Eastern seacoast. As I made the bread this afternoon, I was comforted about participating in a process of my forbears. Those who survived without power. Maybe that's why I made the bread. There was something calming about thinking about the courage of those who came before. Sorry if that sounds just a bit too saccharine, but the thought of past courage gave me present courage. Who knows if the wind will howl tonight or the next few days. Who knows whether the bread I made will be toasted or sliced untoasted and slathered with jam. I've charged the cell phones, discovered that I have a remarkable number of flashlight batteries, and have stood in line to get the requisite water and "no perishables" (this from advice from my daughter). My thoughts tonight are less fearful and more hopeful. I pray that no one will be severely battered by this storm. I hope everyone has someone watching out for them.We live in a country that does its best to care for our well being. I'll keep that thought in my head tonight too, when I begin to hear the winds swirl.

Categories: The nest
/