Shopping Cart
Your Cart is Empty
There was an error with PayPal
Click here to try again
Thank you for your business!
You should be receiving an order confirmation from Paypal shortly.
Exit Shopping Cart
| | |
| --- | --- |
| Posted on December 4, 2012 at 10:41 AM | |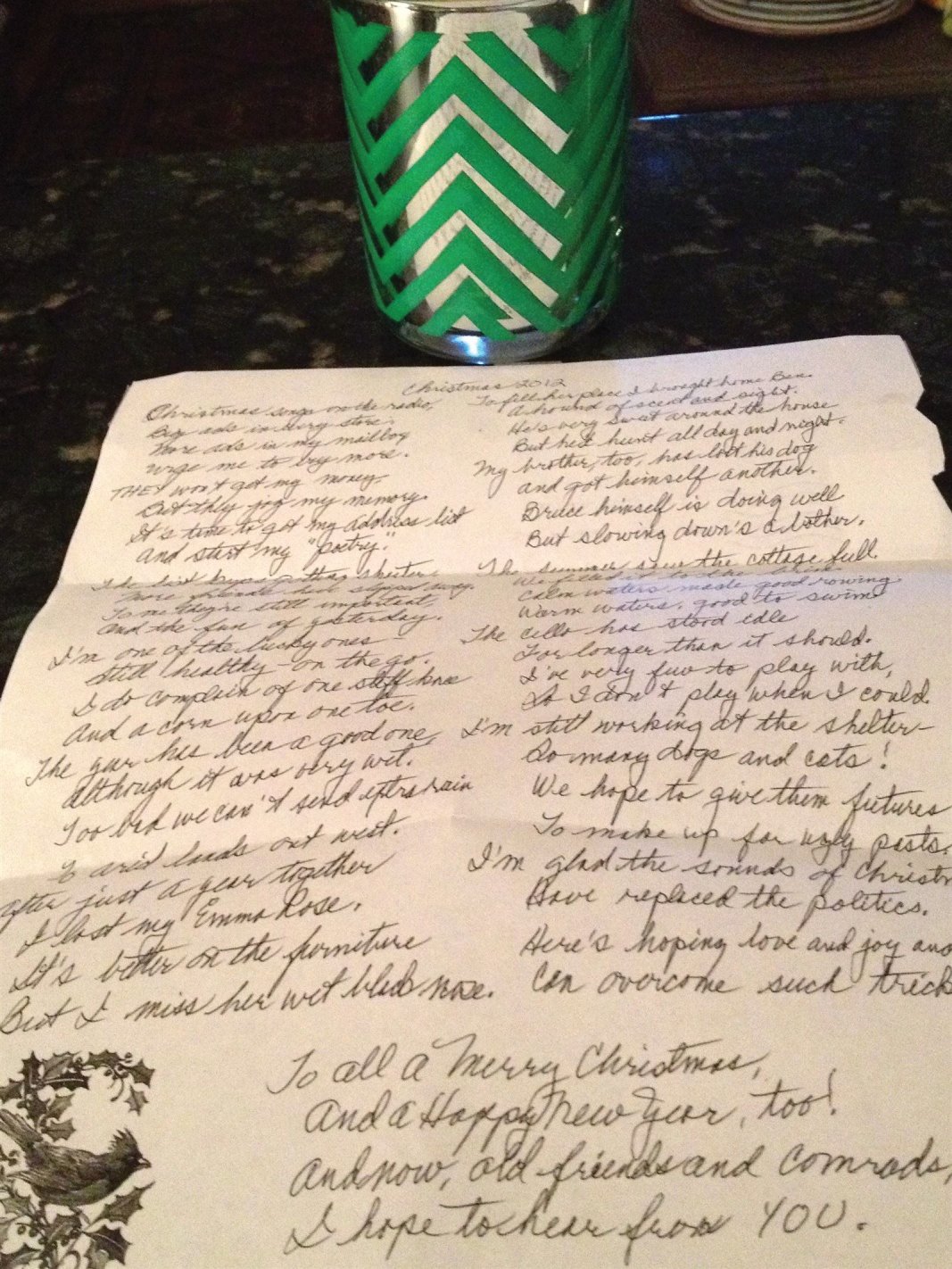 I just brewed a cup of tea, lit a candle, and put on some of my favorite holiday music. I am about to start a yearly tradition that was faithfully followed by my parents--sending cards to friends and family expressing wishes for happy holidays and hopes for a peaceful new year.It is a tradition that has been abandoned by some, particularly because the holidays can get too crazy with so many added responsibilities--shopping, cooking and attending holiday events.All of the things I just mentioned are supposed to add to the magic of the holiday moments, but too often they become a long list of tasks that have to be met--within a certain deadline.The easiest task to eliminate seems to be setting aside time to personally communicate with one another.And by personal, I mean the written word--the hand inscribed word or two personalizing the message. The image accompanying this post is a poem written every year by our Maine cottage neighbor.I cannot begin to guess her age--all I know is that my family and I watch in awe as she rows her dory in the early morning. We guess Peggy is in her  80's. Her holiday poem is almost always the first one to arrive in my mailbox.She sets the bar high when it comes to communicating a personal message to friends and family.So did my mother.When she died at 97, I took her address book and wrote to special friends who would wonder why they hadn't received a holiday card from Frances.It still makes me tear up thinking of her sitting in her chair the last few years of her life having received her cards from the Pine Tree Society (which provides services to the disabled and adaptive equipment for children).It took her quite a few days to write to her friends--because she did just that.Every card carried a personal message.Her messages were always about the recipient.She wrote a few brief words about her life-but mostly she inquired about the lives of others to whom she was writing.It was an unselfish communication, but it also resulted in her friends and family being eager to answer her questions.When my mother and father did the cards together (they had a separate address book for holiday cards) my father would also add a word or two and it was his job to keep track of cards sent and cards received.I save cards received each year and put them with my holiday decorations.I like to reread the messages and then I recycle the front of the card to use as gift cards for my presents.While I still prefer the handwritten note, I do believe that any way you can wish friends happiness and peace is meaningful.So I wish those of you who read this blog a very happy holiday season and much joy in the new year.
Connie
Categories: friendship
/