Shopping Cart
Your Cart is Empty
There was an error with PayPal
Click here to try again
Thank you for your business!
You should be receiving an order confirmation from Paypal shortly.
Exit Shopping Cart
| | |
| --- | --- |
| Posted on May 14, 2013 at 12:08 PM | |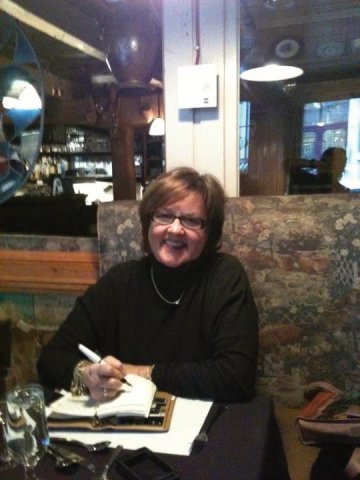 It happened again! I was writing and eating at the same time while having lunch at a restaurant in Madison, CT. I was visiting my family for the weekend and took a side trip to drop off my book for review at R.J. Julia Booksellers.
I shared in Above and Beyond Wellflleet that my "black book", my journal,  is my constant companion--especially when I am eating in a restaurant alone (the image accompanying this blog was taken at my favorite Quebec City restaurant, Cafe San-Malo). I have often been confused as a food critic, and it happened again. As my server brought me my coffee, he asked if I was from Zagat's? I smiled and said "no, but the lunch and service were great."
What I write about is best described in the words of Joan Dideon who said "I write entirely to find out what I'm looking at, what I see and what it means. What I want and what I fear." Her words are spot on for me. I write about what I feel and what I observe. I speak my mind to my journal; I never fear that as the words tumble out of my head onto paper that I will have offended. My journal musings are not about fact or keeping historical records. I am not a diarist for others to check what the weather was on a 
certain day or reporting current events. What I write, I keep for awhile. Some of what I've written 
helps me to sift through my emotions. Some of what I've written provides a magnifying glass by which I can see what minor things happening in my life, may actually be major. My words give me perspective. Some of what I've written is fodder for essays, blogs or the next book. Lots of what I've written will eventually be thrown away--by me.
Stephen King offered this wisdom in his book On Writing-- "writing is refined thinking." That's why I write. The process does give me the opportunity to ask myself what's on my mind. I'm often surprised by "what's on my mind." Perhaps writers (for that is what I am) must explore life through putting experiences and feelings into words. For this writer, most are not epic experiences. Writing about recovering from the death of my husband was epic. It took me ten years to distill my thoughts and then share my thoughts in my book Above and Beyond Wellfleet.
Right now, I am writing these words in the morning sunshine on my little front patio "nest." Every once in awhile I look up and observe a big, fat bumble bee enjoying a small flowering willow about ten feet away. The sun is peeking in and out of fluffy clouds and the air is a bit chilly, and my heart is glad. Is that epic? Yes!
Categories: writing
/