Shopping Cart
Your Cart is Empty
There was an error with PayPal
Click here to try again
Thank you for your business!
You should be receiving an order confirmation from Paypal shortly.
Exit Shopping Cart
| | |
| --- | --- |
| Posted on November 25, 2013 at 3:19 PM | |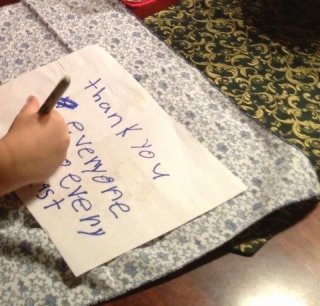 Last Saturday night, I celebrated an early Thanksgiving dinner with my son, daughter-in-law, and their six-year old son. As food preparations were being made in the kitchen, I peeked into the dining room. Without being asked, my grandson was busy "decorating the table." This is what he did: he wrote large place cards (like the one pictured) to place under our glass plates--the message read "thank you for everyone who ever exists" (some had "s", some didn't). Then he drew flowers to put in front of his mother's and my plates and in front of his and his father's he put a paper on which he had written  their favorite football team-my son's the PATS-his the Jets (the start of a friendly competition, I surmised). Then he got out his piggy bank and found four gift bags and into each he put some change and placed those  on our seats. He did all of this without being asked or coached. I will never forget his inspired generosity and creativity. We sat as a family around the table and each of us said a grace of Thanksgiving. 
The next day, we went to church. I don't know what it is about organ music, but I crumble and tear at the sound. As I sat there next to my son and daughter-in-law, I tried to compose myself, but then I saw two elderly women, bent over, but very dignified walking down the center aisle--each with  a helping hand-but each very proud that they could still walk. At their sight, I wilted and wept gently; I was a 67 year old child who missed her mother. I got out of my pew, tried to reassure my son that I was all right and walked to the back of the church to gather my wits. He followed-I said "I miss Grammie", he got it, we stood there for a moment and went back to our pew--my daughter-in-law handed me a package of tissues and later said "I knew exactly what happened".
Emotions run deep for me around the holidays. Eleven years ago, I didn't know if I would ever be able to honor them with the ways to which I had become accustomed. Thanksgiving was my husband's high holy holiday; he was a man of great gratitude and he loved to share the bounty of the blessings that he cared most about--his family and his friends. My parents and grandparents  instilled the memories of their own holiday pageantry--my grandfather sharpening the carving  knife with a steel, my granny carrying into the dining room a turkey that seemed almost larger than she. My mother's pecan pie, my father's eloquent graces.
Eleven years later, my children and grandchildren have taught me that life goes on, love endures and sadness falls away, making room for creating new traditions.
This Thursday, I will share my second Thanksgiving family gathering--this time with my daughter and her family. We talked this morning about how to fit our family and friends around the table--a table that will be covered with my grandmother's linen table cloth. We will light the candles, say a prayer of thanks and feel the presence of those who "live" vividly in our memories.
/