Shopping Cart
Your Cart is Empty
There was an error with PayPal
Click here to try again
Thank you for your business!
You should be receiving an order confirmation from Paypal shortly.
Exit Shopping Cart
| | |
| --- | --- |
| Posted on March 23, 2014 at 10:41 AM | |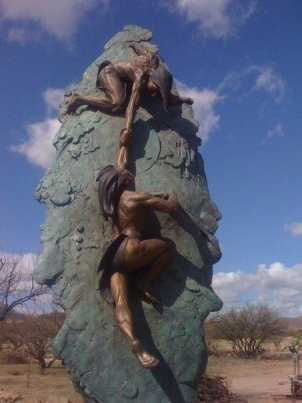 This sculpture is one of my favorite images. I took this photograph in an outdoor sculpture garden in Tubac, Arizona while visiting friends.
What made me think of it today was an article I just read in the New York Times about Gloria Steinem turning 80. I have to admit that I was shocked by learning her age. I guess because I will always think of her as being 38 when I was 25,  forty two years ago when I first heard her voice and took her words to heart.

I was the mother of two toddlers. This I knew-- I loved my children, but I was confused about what my life held in store for me. This I also knew--I couldn't quite grasp why I went to college--was it to learn how to do laundry, was it to learn how to vacuum, was it to learn how to have coffee with my neighbors? Each of those, of course, are rhetorical questions. No, that is not why I went to college. Actually, if I had, I would have failed miserably, because I was good at loving my children, but I was not good at all doing those other things that took up my daily life.
Enough true confessions. The story this morning is that Gloria Steinem and her "friends" were the outstretched hand to me depicted in this image. They pulled me up and made me see that there was a new world for women--a world where respect for exercising a new vision of what was possible.

Gloria Steinem lent a hand to women who were confused about what life expected of them. And I don't mean that the message was "forget your family." Quite the contrary, at least for me the message was figure out who you are as an individual, becoming more of a whole person better able to love your family.
The new vision was exhilarating and exhausting. I'm sure my children can attest to the exhausting part. It wasn't easy for the family unit to adjust to my new energy devoted to more than keeping a house running smoothly; a lot of my new energy was directed to learning about what I could accomplish.

Gloria and her words got to me. She sparked a flame that thankfully could not be extinguished, and I will always be grateful to her. She pulled up a 25 year old to new heights. And the strength she encouraged then, helped me again when I became a widow at 55. She helped instill a spirit of independence in me. So it is with gratitude that I wish her a happy 80th birthday, and hope that it's not too much to ask that she keep paving the way.

Categories: gratitude
/